How to update your rooted S-ON HTC EVO 4G LTE to 2.13.651.1 firmware without losing everything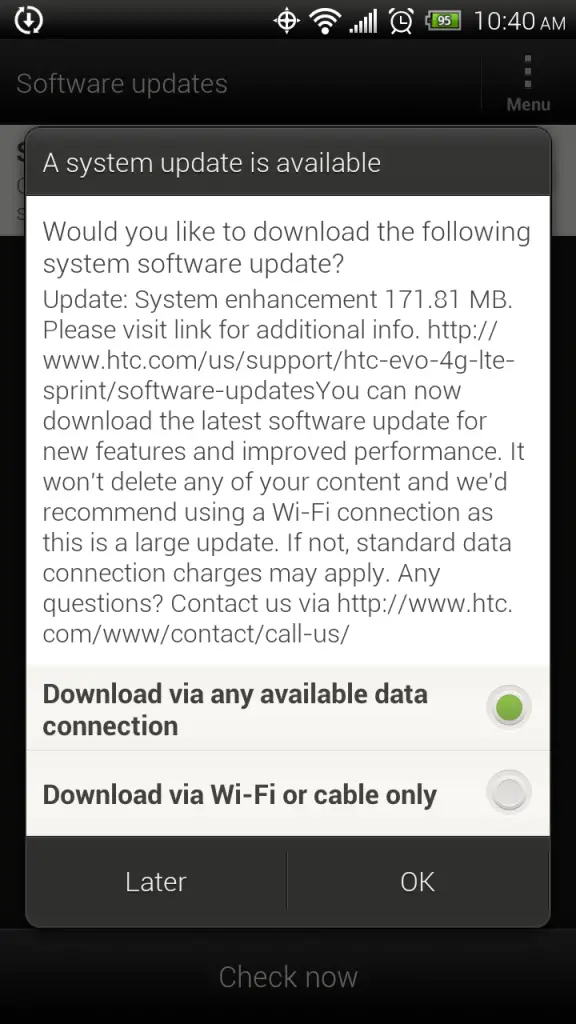 A week ago, Sense 4.1, Android 4.0.4, and a set of radios contained in an update package numbered 2.13.651.1 was released for the HTC EVO 4G LTE from Sprint and HTC. While rooted users generally scoff at OTAs, the 20%+ performance gains on the latest kernel+radio combos have left some in the root world, for once, looking on at stock with a bit of envy.
While the radios are not required to run the new kernel, there have been some reports of random lockups when you run a radio for one kernel revision with another.
Unfortunately, if you're rooted but not S-OFF, updating the radios to work with the new kernel is a challenge. Radios can only be updated on a locked, stock EVO 4G LTE. That usually involves losing all the settings, data, and cool stuff.
One brief word of warning before you proceed: anything below could cause data loss, and if you're on an hboot that can get S-OFF, this will update your hboot to a newer version that depending on when you read this most likely doesn't have that ability (currently there is no S-OFF for 2.13.651.1) so you will be stuck using HTCDev unlocking.
So, to update to the newest radios and firmware and not lose your data:
Nandroid backup
Boot into recovery, or use ROM manager or other program to make a nandroid backup. I would suggest using Team Win's Recovery as CWM has had its issues. After the nandroid backup is made, boot the phone back up, plug into a computer, and copy the nandroid off to a computer. Backups are usually stored in a directory called ClockworkMod, or TWRP\Backups\some identifier\.
Note: You probably don't have to copy the data off, but since some of these processes say they will erase everything, I'd go ahead and do it even though they generally don't touch anything except the system.
Clear your Google Wallet settings
If you've used Google Wallet in the past, go ahead and clear the settings. I don't know if the secure element can be bricked by updating the radio and firmware, but I don't want to risk it.
Update using the RUU
You probably will have to have the bootloader locked in order to update the radios depending on firmware you're currently running, you can find information on that step here. It's the same method on the EVO 4G LTE as it was on the EVO 3D.
Grab the current RUU from HTCRUU or another source. Run it on your Windows computer or virtual Windows box. Follow the steps the ROM update utility tells you to.
Following the RUU, you should be stock with updated kernels and firmware.
Re-root the device
Grab a copy of the RegawMOD automatic HTC EVO 4G LTE rooter and run it. Follow the prompts to re-root your device.
It will unlock your phone via HTCDev, install the newest Team Win Recovery, and install Superuser, among other things.
Restore your nandroid backup
Assuming everything went as it normally does, even though the phone has told you multiple times that everything will be erased, your nandroids should still be intact.
Go ahead and make a nandroid backup now just so that if something goes wrong on the restore you'll still have a working backup available. Restore the first nandroid you backed up. You should be good to go and on the new firmware.
If everything went right, that should have taken about 40 minutes to do.
Alternate method if you're S-OFF
If you're S-OFF, just download the latest firmware package and flash it via bootloader. That should take about two minutes. Should be no need to do any of the above, although I would advise having a ROM on the card for install just in case your current ROM has issues with the new firmware.
This is why people want S-OFF on their devices, in case you didn't know.