Apple October 23 event roundup, part 1: Hardware

Apple held its "iPad mini" event today. There, the company introduced a number of new products – all of which you can learn about right now by reading this roundup post!
13-inch Retina MacBook Pro
As rumored, Apple introduced a brand-new 13-inch MacBook Pro. This one has a resolution of 2560 x 1600 – and to drive the new display, includes dual-core i5 or i7 chips with HD Graphics 4000, 8GB of RAM as standard, and will come with flash storage expandable up to 768GB.
It's only 0.75-inches thick, and weighs just 3.5 pounds. In an Apple tradition, the DVD drive has been removed. Luckily, it has MagSafe 2, two Thunderbolt ports, a USB 3.0 port, headphone jack, and dual microphones on the left side; while the right side has an SD card slot, another USB 3.0 port, and an HDMI-out port.
The new 13-inch Retina MacBook Pro starts at $1,699 with a 2.5GHz dual-core i5 and a 128GB SSD. They are shipping today.
4th generation iPad
Apple was expected to slightly update the new iPad, but it is calling the iPad that it just announced its 4th generation iPad. It's got an A6X chip inside – and a Lightning connector out – the same battery life as before, and the same Retina display.
It does have faster WiFi, expanded LTE compatibility (read: more carriers). Other than those things, it's the same iPad as before: same capacities and same prices, only now there are a few more carriers from which to choose should you want the LTE version.
One more thing: Apple has changed the name of what was formerly known as the new iPad to iPad with Retina display. This change is likely due to the fact that the iPad mini doesn't have a Retina display.
iPad mini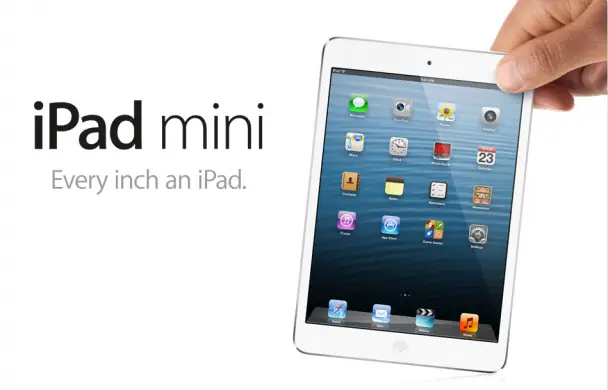 The headliner of the event was the iPad mini. It is a truly beautiful device that takes cues from the brand-new iPhone 5 and iPod touch designs. It comes in white or black glass on the front, like the iPhone 5, and has the same aluminum backing as the two smaller iDevices. Apple claims that it is machined with margins that are "unheard of" in the tablet industry.
The screen is 7.9-inches diagonally, and its resolution is the same as the iPad 2's – meaning that every app that has been written for the iPad 2 will work beautifully and look great on the mini. As for the rest of the dimensions, it's only 7.2mm thick – which means that it's 53% lighter and 23% thinner than the iPad with Retina display.
Inside, it is essentially an iPad 2. It has an A5 processor – the same one that currently powers the iPad 2. Of course, it has a lot of upgrades, too, including LTE connectivity, a better FaceTime HD camera on the front, a 5MP shooter on the back, and, of course, Apple's new Lightning connector.
The device will start at $329 with 16GB of memory. If you want cellular connectivity, you'll have to pay $130 extra, just like the bigger iPad. You can also get 32GB and 64GB varieties, in both WiFi and LTE models, for $100 and $200 more than the base prices, respectively. Preorders start this Friday, and the WiFi models will arrive next Friday. Cellular models will be shipped later.
That's a wrap for all the pocketable hardware Apple introduced today. You can check out our software roundup post here.
[
iPad mini
|
iPad with Retina display
|
13-inch Retina MacBook Pro
]