Fapple V3 promises no more app associations on the HTC EVO 4G LTE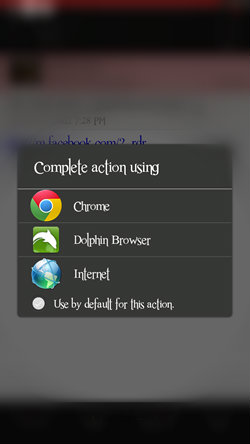 A developer going by Steal25 has released a mod for several HTC EVO 4G LTE ROMs that removes the app associations menu in settings and brings back the old "complete action using" popup menus.
Due to patent trolling that ended up causing the US Customs Department to hold and inspect the shipments of the HTC EVO 4G LTE a few months back, subsequently pushing back back the release date, HTC had implemented a workaround which evidently a lot of people do not care for too much.
It's worth noting that by applying this mod, you are violating Apple's patent on a process for choosing an application to launch based on what you tap, so there's that. It's very doubtful that Apple even cares what an end-user does with their phone for no monetary gain, but it will be interesting if ROM developers who accept donations for pre-release versions might find themselves getting cease and desist letters.
The mod is known to work on the SuperLTE based ROMs, and does not work on Viper4G. Your ROM may or may not support it, so make sure to make a nandroid backup before you get to flashing the thing, because if it doesn't work, you're going to end up with a messed up ROM.
ROMs such as MeanROM 5.0+ and the new SuperLTE base already have the mod included.
It's an odd odd time now, when what you want on a rooted Android device on Sprint can spite a different company or carrier. Such is how the crazy phone patent world seems to roll these days, and it's wonderfully entertaining to watch.
[
xda-developers
]