The Tobii REX eye tracking peripheral is the coolest thing I've seen at CES thus far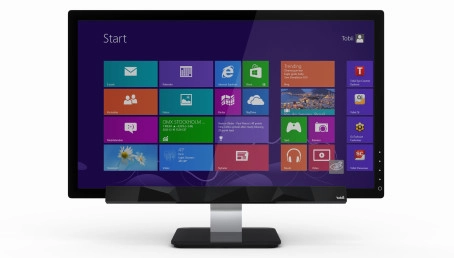 There are a lot of great – and sometimes not-so-great – gadgets at the International CES, spanning every type of technology you can imagine. But so far, Tobii's eye tracking technology is one of the coolest things I've seen this year. Essentially, it allows you to replace a mouse with your eyesight.
Tobii introduced its Gaze technology at last year's CES, but the company's new Tobii REX peripheral lets you turn any Windows 8 PC into a device that will track your eyes and respond accordingly. The technology is beautifully simplistic, and it almost feels magical. All it takes is a quick calibration, and you're up and running. From there, you need only look at something on the screen and press a button on the keyboard to "click." While this does require some interaction with a peripheral, it's a lot easier than having to move a mouse, touch, or slide your finger over a trackpad.
Now, you're probably wondering just how well the technology works. I too was skeptical initially, so I put it to the test. I quickly darted my eyes back and forth across the screen, going in and out of menus and apps at a very fast pace. Surprisingly, Tobii's technology managed to keep up just fine. While I was worried that it would need to have larger hit targets (for example, the live tiles on the Windows 8 Start screen), it worked just fine with drop-down lists and hyperlinks too. I only encountered one issue with accuracy, but I suspect that was because the Weather app I was using was an older version and did not have some of the features that the latest version includes.
The technology can also be used to scroll – simply hold down the scroll key and look in the direction you'd like the page to move – and navigate maps. Although in the latter case, you'll still need to use the mouse wheel to zoom in and out, and panning the map was a little slow. Additionally, there were a few Windows Store apps which are currently incompatible with the scrolling feature.
Overall, Tobii's eye tracking technology is impressive. There are a number of ways it could be integrated into future laptops, tablets, games, and more. In fact, I could almost see Microsoft adding it to Kinect's arsenal of controller-less features at some point. Tobii REX is available now for developers as an SDK, and it will be released for consumers this fall.
Make sure to stop by our CES 2013 forum for hands-on impressions, giveaways, and much more!