Live at CES: The Samsung press conference
For more, check out Paul's live Twitter feed!
2:00 – Samsung CEO and president BK Yoon takes the stage!
2:02 – Talking about home of the future, which will protect, be flexible, and be responsive.
2:06 – Samsung is ready to meet these challenges. Samsung has the broadest portfolio across multiple industries.
2:07 – Smart homes – imagine your family watching TV in the living room, which is streamed to a kitchen appliance.
2:08 – In healthcare, Samsung has pioneered solar powered telemedical centers in places like Africa.
2:09: Samsung America president Tim Baxter now on stage..Smart designs, smart connections, and smart experiences.
2:10 – Shout out to Chromebooks – 10% of computing devices are Chromebooks. Streaming is also on the rise across all screens.
2:12 – 2014 is really all about "Samsung Smart Home"
2:13 – NBA is new content partner, which will be integrated across all screens: tablet, phone, and TV. PGA too
2:14 – Pete Bevacqua takes stage, CEO of PGA America.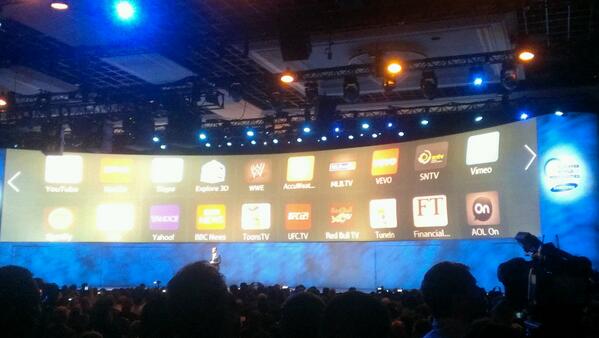 2:16 – Mark Cuban takes the stage! Talking about UHD now.
2:19 – Joe Stinziano, executive vice president of Samsung America, takes the stage. UHD will drive the next generation of HD content. Samsung 4k is in the forefront with better technology, entertainment, and an ecosystem like no one else.
2:21 – Two new UHD TVs – 105-inch  – world's first curved UHD TV. World's largest UHD TV. Auto depth enhancer with greater sense of depth.
2:24 – Director Michael Bay now on stage. Uh-oh… teleprompter is off, and Michael Bay leaves the stage. That was really awkward.
2:26 – UHD upscaling of older content. UHD dimming will also help make picture even better. Largest UHD lineup ever announced today with flat and curved devices between 55-105 inches!
2:28 – Talking about lots of content partners, including UHD streaming service in partnership with DirecTV. TVs will be equipped with quad core processors that allow for instant on.
2:30 – Samsung also announcing new bendable TVs. Gives customers control over their viewing experience, by allowing either flat or curved UHD display in the same device.
Developing…
2:33 – Kevin Dexter, Senior Vice President of Samsung Electronics America, takes the stage to talk about new refridgerator, the Food Showcase.
2:34 – Samsung is the fastest growing appliance brand.
2:35 – Samsung now announces the new Chef Collection – fridge, oven, microwave, and dish washer. Chefs Michel Troisgros and Christopher Kostow now on stage, to talk about this.
2:42 – Now, talking about laundry and Samsung's washer and dryer collection. Yawn.
2:44 – Now, we're getting to the good stuff…mobile devices!
2:45 – Vice president of Samsung Telecommunications America Nanda Ramachandran now on stage. Talking about tablets.
2:46 – Tablets should be for work and place. Samsung is releasing a new Pro tablet line – Note Pro and Tab Pro.
2:47 – 12.2-inches is for an incredible large screen experience, productivity, and content! 4 million pixels at 2560 x 1600.
2:48 – New UI called "Magazine UX. Multiwindow feature allows for viewing four windows at the same time.
2:49 – Lot of business tools: Cisco WebX app, e-meeting with collaborative annoation, remote PC. And, of course, S Pen, which allows access to Air Command and Pen Window.
2:51 – Full size virtual keyboard which perfectly mimicks real keyboard. 2.3GHa quad core ap with 3GB of RAM and Android 4.4, WiFi ac MIMO, Network Booster feature, and 9500mAh battery for 10 hours of use. Only weighs 750 grams.
2:54 – Galaxy Tab Pro available in 10.4 and 7.8-inch varieties. Designer brand book covers are available. Cisco WebX is free for 6 months.
2:55 – New Samsung Smart Camera and Galaxy camera announced.
More soon…