Exploring Android L: Lockscreen widgets also bite the dust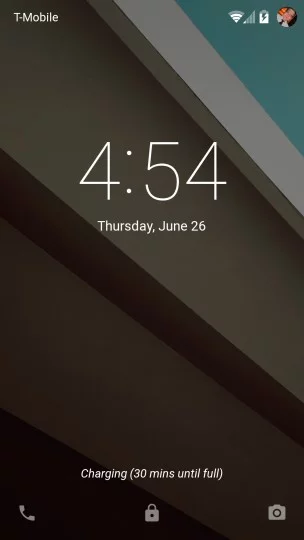 In yet another really interesting choice on the part of Google, it appears that lockscreen widgets have also bitten the dust – just like the Gallery app has. Unless I'm missing something huge, without so much as a goodbye, the new Android L lockscreen allows much less customization now.
Without any lockscreen widgets to take up space, Google has inserted notifications that will appear under the clock. The carrier name has moved from the bottom of the screen to the top left hand corner, and if you have your device plugged in, you'll also get a message telling you how many minutes it will be before your battery is full.
Swiping from left to right will take you to your phone, while swiping from right to left will open up the camera, as before. Swiping down from the top of the screen will open your Quick Settings (only one swipe, this time), and swiping in any other direction will unlock your device.
Of course, you can set other screen locks, too, including Face Unlock, pattern, PIN, and password. If you lock the phone this way, your camera and Quick Settings will still be available with a single swipe, but you'll need to unlock your device for anything else.
So, will you miss lockscreen widgets? Is this something you hope Google restores before this release goes public, or do you say sayonara?