Sprint offers to cut your AT&T or Verizon bill in half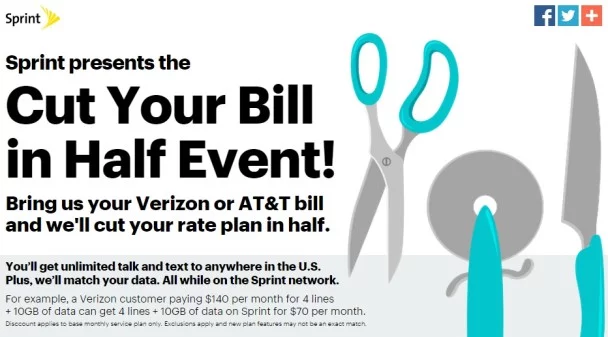 In its latest scheme to get more customers, Sprint has decided to focus on the big two carriers for a change, rather than dedicating so much time and energy to responding to T-Mobile. For a limited time, starting on Friday, December 5, Sprint will cut the wireless bills of AT&T and Verizon customers in half. So, in other words, if you were paying $180 a month for a family plan on Verizon or AT&T, Sprint promises to reduce that to only $90.
Additionally, Sprint is waiving the $36 activation fee and will buy you out of your contract for up to $350.
Here's how it works:
Customers who are interested in this deal will have to upload a current copy of their bill to get started online, or bring a copy of your current bill and  your current phones to a Sprint store. Next, a Sprint representative will select a Sprint plan that matches what you currently have as closely as possible – all plans will include unlimited talk and text, and your data allotment will at least match what you're currently getting.
What's the fine print? This deal only applies to the plan cost – Sprint won't subsidize your phone, so you'll have to pay for one up front or through a leasing plan. And that's where a lot of your potential savings will get eaten up.
If you're on a "universal" phone like the Nexus 5 that's compatible with Sprint, though, this has the potential to be a really good deal.
Is this enough to get anyone of you to switch to Sprint – or to come back to Sprint?
[
Sprint
]