Seek Thermal XR Camera review
The Seek Thermal XR (Xtra Range Thermal Imaging Camera) is a plug-in gadget for your Android or Apple devices that allows you to see heat and cold, as well as find out what temperature the thing you're looking at is.
When I first encountered this camera at Pepcom, I knew I wanted to play with the thing. Unfortunately they weren't in production yet, and as I returned from the relatively mild Las Vegas weather to Nashville, where it was seven degrees, 47 in my kitchen, 80 in my living room, I realized I wanted this camera to figure out where the heat was going.
The camera arrived about a day too late for me to find out where this artic air leak in my kitchen was, but after using it and the app for a couple of weeks on Android I've gotten pretty familiar with the ins and outs of Predator Vision.
I really wanted to do this review based on being able to see heat and cold loss in an older home, as you could save a lot in energy and heating bills just by seeing that a window was losing heat, but I'll either have to save that for a Spring freeze or wait until winter.
For what it does, it's pretty good. The app has a few options on how to view the thermal data such as only showing things above X degrees, showing the hottest and coldest regions of the image, etc.
I was able to see the heat from an apartment building across the street and watch people walking behind closed curtains, also watched a cat strolling along in the dark doing his cat business.
Seek thermal XR Issues?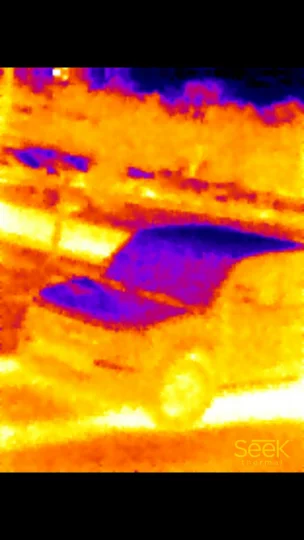 I'm going to preface this with: I like this camera, I think it's great, these are just minor things I ran across while playing with it way more than I probably should have considering my taxes weren't finished.
You can theoretically see in the dark and hunt Arnold Schwarzenegger, but much like in Predator there's some noise associated with the camera. It's not a lot, but there's a little bit of clicky adjustment sound occasionally. Not terribly loud nor annoying though.
The Android connector works on most Android devices right out of the gate. Unfortunately HTC (all the phones I have) points all their microUSB adapters in the other direction than the rest of the manufacturing world. What this meant for me was when the camera arrived it was awesome at doing selfies. I had to grab a $3 cable to turn the camera around. You can see what's supported and what needs a cable here.
Some phones have the microusb on the side, in which case your camera is rotated 90 degrees. I didn't see an option to rotate by X in the app, but that would solve the rotation issue.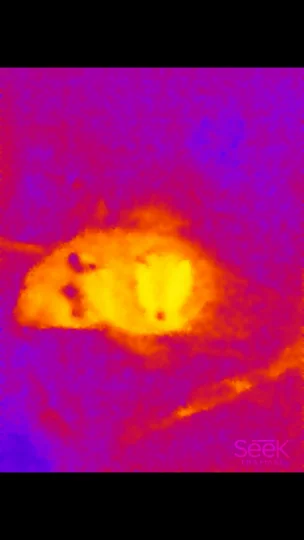 There's a mode in the Seek app in which you can see an image from your camera and an image from the Seek Thermal Camera side by side – in theory this is cool. Without a calibration in the app however the Seek Thermal Camera image is about 300% larger than the image from my main camera. Your cameras will vary depending on zoom levels and whether they're wide-angle or what.
Live images are slightly delayed as though you're watching on a webcam on a slowish connection. Not terrible for what this is for, but if you're fighting ninjas in the dark this isn't the camera for you.
One of the features/selling points of the Seek Thermal Camera is listed as situational awareness. Seeing someone lurking in the dark. The problem with this scenario is that you've got a cell phone blasting light into your eyes to see said creeper in the dark. Pretty sure leaving yourself night blind probably isn't a good idea in most cases.
Room for improvement
I think if the devices included a 180 degree adjustment for the USB orientation that would not only solve the HTC problems, it would also allow you to aim the camera at a different angle and do selfies / watch the cool air enter your nose. At the least, include a re-orientation cable with it.
A rotate and resize option in the app would be great so the images are the same size.
The price feels kind of up there.
Overall
I really like that this is in the hands of consumers. The ability to see where you're losing hundreds of dollars a year in heat loss, or where you need insulation, it pays for the camera. Being able to see if there are hot spots in a fireplace before you go to bed could save your life (ok, probably not, but that's fun to say).
The problems encountered are mostly found because I enjoyed playing with the thing so much, and most of the issues are fixable with an app update in the future.
If you don't own a home, have reasonable utility costs, I'm not sure this is for you. For me, I think this will really help my feet to not freeze this coming winter as I finally figure out where the cold is actually coming into my kitchen.
Seek makes cameras in iOS and Android flavors. They also make a couple of editions of the thermal imaging camera. What I received was the more expensive Seek Thermal XR Xtra Range Thermal Imaging Camera, but that might be a bit of overkill unless you are actually using this from a distance.
The Seek Thermal XR Xtra Range Thermal Imaging Camera is available on Amazon for between $251 & $270 for Android, and $263.50 for iOS/lightning connector.