AT&T, Comcast oddly fail to come to agreement to help Google Fiber crush them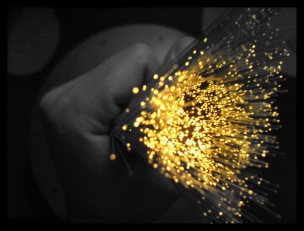 AT&T and Comcast had a sit down meeting at the request of Nashville's mayor with Google regarding their fiber rollout delays and to put it nicely it went exactly where you would expect it to go.
While a large chunk of Google Fiber's service is underground, existing laws require other data carriers to either move their equipment or give a thumbs-up that their equipment is not in the way before Google can access the telephone poles, which are the last leg of Google Fiber's journey to the end user in Nashville.
Google's deployment of fiber is still going incredibly slowly due to Comcast and AT&T having a very long window per request to move their equipment on telephone poles, and having very little incentive to do so. Google has requested a new law for Nashville they managed to get passed in other markets called One Touch Make Ready, which basically allows a pole-owner approved contractor to go out, move or verify that other ISPs equipment is not in the way.
That would be the beginning of the end of Comcast in Nashville, although AT&T doesn't seem to have garnered the ill will that Comcast's oligopoly has managed to accrue over the past thirty or so years.
While Comcast had no comment afterwards, AT&T (lesser of the evils,) was frustrated that their customers could potentially be impacted by the lowest bidding contractor mucking with their wires.
Google has said they might just pull out of Nashville entirely if the city keeps allowing the two entrenched carriers to effectively refuse timely service to Google while their crews are all over town stringing fiber to make them first to the market.
Basically on the ground in Nashville it appears Comcast is everywhere installing fiber on the poles and knocking their own service out right and left while Google Fiber is at year two, hundreds of millions in construction, and seven customers.
While the carrier's rights to protect their equipment should be respected, it should also be pointed out that while delaying Google Fiber in Nashville Comcast will set their prices (as seen in other markets,) in the $300 a month range until they're forced to compete with Google's $70 a month offering.
The existing laws were not designed to handle a competitor being able to get into the market in under a decade, and they give the existing companies much flexibility in dragging their feet. That said, Google's subcontractors have thus far managed to wreak havoc on unsuspecting gas pipelines, water mains, traffic, and goats so maybe the existing infrastructure's concerns should be given some weight.
Google had previously threatened to abandon Nashville if they couldn't get things moving faster than a snail's pace, which would put them somewhere in the Gulf of Mexico currently if I did the math correctly (0.013 m/s * 60 * 60 * 24 * 2 years / 1609.34).
Hopefully Google Fiber Nashville doesn't end up in the abandoned projects page like Google Answers, Lively, Google Reader, Deskbar, Clic-to-Call, Writely, Hello, Send to Phone, Audio Ads, Catalogs, Dodgeball, Ride Finder, Shared Stuff, Page Creator, Marratech, GOOG-411, Google Labs, Google Buzz, Dictionary, Powermeter, Real Estate, Directory, Google Sets, Fast Flip, Image Labeler, Aardvark, Gears, Bookmarks, Notebook, Code search, News Badges, Related, Latitude, Flu Vaccine finder, Health, Knol, Classic Plus, Wave, Picnik, Jaiku, One Pass, Listen, Slide, Building Maker, Meebo, Talk, Google SMS, iGoogle, Schemer, Notifier, Orkut, Google Hotspot, Checkout, Base, City Tours, Joga Bonito, Music Trends, Refine, SearchWiki, US Government Search, Sparrow, Web Accelerator, Google Accelerator, Video, Helpouts, Author rank.
Or just kicking their feet waiting for anything to happen like Google Voice, Hangouts, Google Plus, Google Shopping, etc.