Mobizen Mirroring for Android Made My Boss Happy
Mobizen Mirroring (MM) from RSUPPORT has changed the way I use my phone at work. Personal phone usage isn't officially banned at my workplace but it is taboo. Nobody wants to be the guy staring at a phone when the boss walks in. Sometimes, though, you just have to check an email or send a message. Enter MM and its excellent screen mirroring app. MM helps you do that and more without picking up your phone and that makes it a winner in my book.
SETUP
The first thing you need to do is install the free MM app from the Play Store (a Samsung specific version is also available). You should also download and install the PC (sorry, no Mac or Linux client) application from mobizen.com. Launch the mobile app and follow the prompts to create a Mobizen account and enable USB debug. Connect your phone to your PC via USB cable and start the PC client. Once you connect be sure to allow USB debugging if prompted.
THE PC VERSION
Make it through setup you'll be presented with an interactive view of your phone's display nestled inside a generic phone skin. You interact with the phone using mouse and keyboard – click for touch, click and drag for swipe. There's no multi-touch, but every touch and swipe gesture I've tried has worked. MM's customization options are what really set it apart from other screen mirroring apps I have tried. One of my favorite features is ghost mode. Clicking the ghost icon replaces the phone skin with a minimal one surfaces a transparency slider. Use the slider to adjust the transparency level. The lowest level leaves the app almost invisible. This keeps it from being too distracting.
MM has other great features like screen shot capture, screen recording, annotation, file transfer, and more. It can also show notifications on your desktop. MM works with or without an unlock PIN enabled. Landscape mode is supported which is great for movies and games. There's little to no stuttering or slow down. Text entry can be done using the on screen keyboard (slow, but works) or using the keyboard attached to your PC. Everything just seems to work.
THE WEB VERSION
If you cannot install the PC client you can try Mobizen's web mirroring service at mobizen.com. Once you've logged in via the website you'll need to enter a two-step authentication code on your phone. This uses your wireless connection to stream your display so it isn't as responsive or fluid as using the PC app over USB. You can still get things done and it's nice to have this option. There's even quick access to your device photos and files.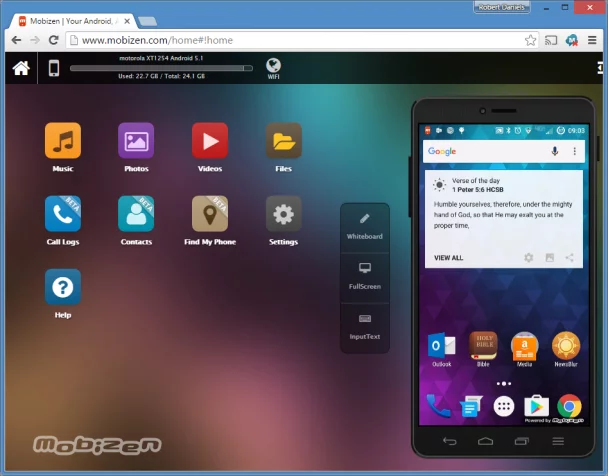 CONCLUSION
I did all of my testing on a 2014 DROID Turbo and MM handled everything I threw at it. A co-worker's 2015 Moto X Pure Edition worked even better, handling heavy duty games like CSR Racing 2 with nary a hiccup. Despite it's paltry Google Play rating (2.9 as I write this) I have very few complaints – app switcher is absent and no multi-touch being chief among them. User reviews are split about 50/50 between five stars and one star. This tells me that the app either works or doesn't for most folks and that may be a function of hardware. I'd expect that any flagship phone more modern than my DROID Turbo will work just fine. In my opinion, RSUPPORT has an excellent product and it's worth giving it a go if you are at all interested in remote access.