SCOTTeVEST OTG pockets laptops in new product
It's no secret I loved my little lightweight SCOTTeVEST even if I kept getting compared to MacGyver or a fisherman while wandering around CES wearing it.
The SCOTTeVESTs are clothing with device pockets that let you do things such as charge, run headphone in, or just carry things with no visible lumps on you.
Features of some of the SCOTTeVEST products include water bottle holders, ID/credit card pockets that can't be skimmed, places for your phone, tablet, change, pens, glasses, cameras, badges, earbuds, charger batteries, etc.
The new OTG line comes with clear touch pockets so you can even interact with your touchscreen devices without taking them out of the pockets.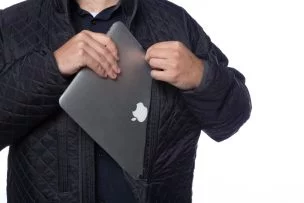 They come in men's and women's fit, and most of the features are available in all sizes although as you get into the small and extra small sizes you might find your ability to hold a laptop does not exist.
The new OTG line looks a little quilty or snow bunny to me, but I wouldn't hit the slopes with that level of tech waiting to fall. Pockets don't provide excess padding.
But they're interesting, and as fall settles in and you wonder how you're going to keep warm and transport your digital goodies these are something to take a look at.
The weight distribution, assuming you load correctly and evenly, should minimize upper back/shoulder pain.
I haven't had a chance to test the new ones, I just really feel if we're calling ourselves Pocketables there's no clothing line that deserves as much of a mention as the SCOTTeVEST brand does. Man does it have the ability to pocket things.
I start thinking their next step is going to have to be a workstation-carrying coat, and I will be the first to buy it.
Anyway, if you're looking for a tech jacket for the fall, check out the new OTG line (currently only available at the manufacturer's website) or grab up their stuff at Amazon. In the two years since I got my SCOTTeVEST it's accompanied me many places and kept my hands free, my devices near, and my stress level down as everything's zipped, snapped, and not falling out or getting pickpocketed easily.