Bozlun Fitness Tracker B15P review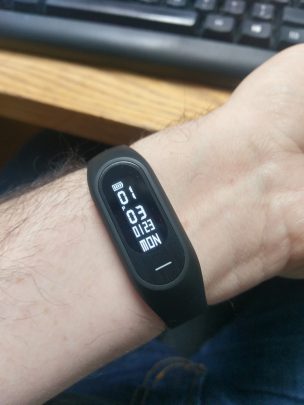 The Bozlun Fitness Tracker B15P is a wrist-wearable heart rate, sleep, pedometer, phone tether, watch, calorie burned estimator, and blood pressure monitor. It also can display some incoming notifications although with the limited screen space and lack of scrolling you might end up knowing who sent you a text but not the contents.
It's actually pretty great for the price point, I've enjoyed it quite a bit, but it comes with some issues that you'll want to be prepared for should you choose to get one.
Software
First off the documentation is pretty much non-existent. You'll need to get a barcode reader to scan the QR code and get the H Band 2.0 app. If you're on Android, here you go. iOS, this one's for you. Once you've got the app you'll need to create an account if you want to do about half of the functions. There's no particular reason for this that I can tell.
If I'm remembering correctly, if you chose not to create an account when you started it up, reboot your phone, you'll need to clear the app out of memory in order to go back and have the option to create an account and the app runs in persistent mode.
Android and iOS platforms are not handled equally. If you're on iOS, (evidently judging by Amazon reviews,) you're going to have a fitness tracker that integrates with Apple's health app. If you're on Android, the only third party integration appears to be a site/app called We Run.
At the moment that means no My Fitness Pal, no Google F'it, etc. Potentially an update could be coming down the tracks or they could sell their device to an OEM that takes the development and runs with it, however in this day and age I wouldn't believe that anything past what ships is what it's going to be.
Automatic blood pressure monitoring
One of the neat functions of this is the claim of automatic blood pressure monitoring. We may have different understandings of the word "automatic" however. In my view, automatic blood pressure monitoring should mean it does it automatically, I can set it for X number of readings per hour and it does them. Their understanding means open the app, connect the device if it's not connected, scroll down to blood pressure, tap that, hit the plus which initiates manual blood pressure monitoring, wait a minute while it does what it does with the band.
The undocumented software leads you to a Blood Pressure monitoring page which allows you to choose Normal or Personal manual blood pressure monitoring. Your guess is as good as mine on this, but my guess is that it's combined with a setting in the app that allows you to tell it what your blood pressure actually is and calibrate from there.
The returned results are not accurate as is. However they do appear to be tracking when compared with a cuff monitor I have. I'll try adjusting next time and see if this makes any difference. Basically it's getting it somewhat right but the curve is off.
Automatic heart rate monitor
I tested this with my BPM camera app, listening to my heart, and every way I could and it appears to get that pretty much perfectly as well as periodically log it. No complaints on that.
Pedometer
While I have had it claim I took a few steps while I was typing, it seems within about 1-2% accurate. I counted out 200 steps because, well, I had nothing better to do than count while I was walking to my destination and it had reported 198 steps.
I have no other devices to test this against, but it appears that it's fairly accurate with my gate.
Sleep tracker
First night I used it it claimed I got two hours of sleep and really terrible at that. This was incorrect. Since the first night's misreporting it's been correct every night although I can't really comment on whether the sleep I was getting was as good as it's reporting.
Outsit alarm
I'm not familiar with the term "Outsit" so perhaps I'm showing my lack of understanding, but it's a monitor that tells you when you've been sitting too long and tells you to get your booty out of the chair. One of those move every 15 minute things.
Doesn't seem to be particularly accurate. Perhaps because while sitting I'm flailing about typing like a madman.
Phone tether / stolen equipment junking
There's an option to vibrate the wristband when you're out of range of the phone. Also an option to not ever work with any device other than the one it's paired with.
Hardware
I took a few showers with the B15P, and while you can't exactly do anything while it's getting soaked as the touch sensor keeps getting pressed, it worked fine after drying.
The wristband is a solid piece that you put the B15P sensor into (you remove it to charge,) and is not something you could replace with another manufacturer, although you could probably just tape it to your wrist.
The sensor itself feels pretty sturdy and managed to survive being attacked by a one year old.
The charging cable for this is horrible. If you don't get it in just right you're not charging, and it fits in incorrectly three different ways that I've found. You can look at the screen to see the charging indicator however. I think this will be the first thing to break as the cable feels weak.
Due to lack of instructions and no evidently pull-off tab, I nearly thought the device was damaged due to the screen overlay that it ships with. Seriously, there was nothing evidently that there was a sticker/screen protector on the device.
Battery life
I'm not a runner any more, I've been playing Mr. Mom for the past five days so my activities have been fairly limited and my phone always near me. I've used the Bozlun Fitness Tracker B15P for 48 hours without a charge and it claiming that the thing still had half a charge left. My guess is this will drop when you're in workout mode and constantly checking your heart rate on the app, however as most of my exercise has been chasing after toddlers, I haven't exactly been heart zone training.
Judging by the Amazon reviews battery life is all over the charts, which could have anything to do with how much you use it, where your phone is on your body in relation to the watch (whether the BT signal has to go around you,) the environment you're in, and what batch of the B15P you got (early batches may have had issues, there have been firmware updates since I got mine).
Would Paul purchase the Bozlun Fitness Tracker B15P?
Yes. But not for blood pressure monitoring, and my cheapskate years of tech have me wanting a price point $7 lower.
I am saddened by the lack of Google Fit or MyFitnessPal integration, but it actually does most of what I want (other than a blood o2 monitor, which I think it could do with its sensor setup). The reports are to my liking, and I can plug the data in elsewhere if I want to sit down and do it, it's just not as easy.
The Bozlun Fitness Tracker B15P is available from Amazon for around $32.