Scout: World's most versatile charger? Indiegogo spotlight/review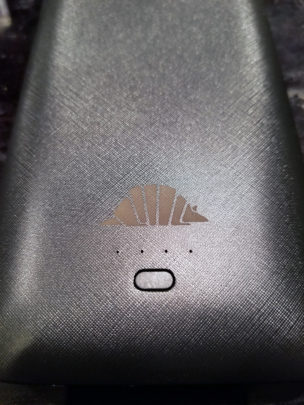 We're spotlighting an Indiegogo campaign here because I have the product in hand and have been playing with it for a couple of weeks at this point. They're looking to raise $10K or more on this device, and on day 1 they're at $8,308 of their goal with a month left. Looks like it'll get funded.
The embargo lifted yesterday, but this being me, I forgot about it. Actually, I forgot what day it was as I had a party on my mind and yeah. Great moments in professional blogging.
There are two versions of the SCOUT – I'll be talking about the non-wireless one the Scout Max.
OK, first off what makes the Scout Max interesting is you can pop out prongs and just plug it into a socket to charge, or you can charge it via a MicroUSB charging port. It has three cables built in to charge MicroUSB, Type C, and Lightning. It additionally has a USB-A port, and all ports are 2.1amp. It also supports pass through charging so you can charge the SCOUT while you charge your devices.
Scout Max's 10,000mAh claims seem to be reflected in how many times I charged my phone from dead, so they've evidently got decent power in the thing. This is assuming ~80% conversion efficiency. The The Scout Wireless is only a 5000mAh thing.
So the interesting things to note here are this includes an AC/DC adapter in what you're carrying as well as it can charge itself via any USB source. The addition of that USB charging option I think makes this something we haven't seen here.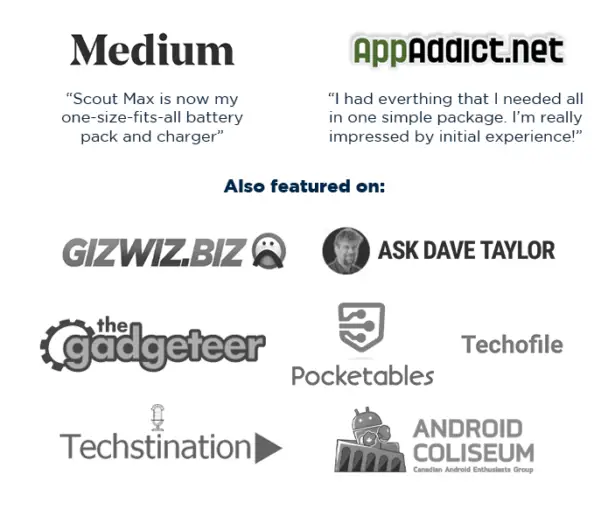 Not sure if the wireless QI version can charge in three ways or just two, but that's cool.
You can use the Scout Max plugged into the wall and use it as a USB charger and just pop it off and jet, still charging whatever you were charging. That's pretty useful. Cables seem to fit everything perfectly so you can charge the phone on top of the charger / minimize profile if it's pocketed.
Paul complains about everything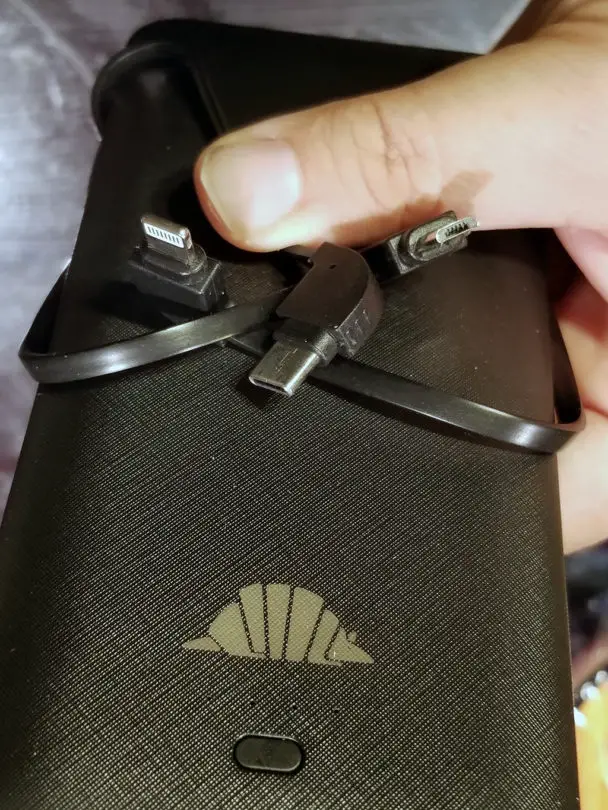 Having covered a lot of chargers, here's what sticks out about this initially.
Fast charging does not appear to be an option, 5V/2.1A is the max you're going to get
2.1 amps is the total shared output. Plug in two devices, get 1.05 amps per device
It appears the plug charging rate is 5V/2.1A meaning if you're attempting to fill up the battery while you're attempting to fill up a dead device, you're only going to fill the device
The Scout Wireless is a 5W charger, so neat, but not top end fast
The wires appear sturdy, but not unbreakable
Wires require a fingernail to move out of location
Wrap-up
Fairly impressive little 3oz beast with four options for charging devices and two options for charging itself make this a pretty great little charger although if you need power fast, it's a little underwhelming. It is, however, most likely the most versatile portable charger.
You can check out and grab one on Indiegogo
And feel free to ask any questions while I have a direct line to the PR firm.