Benexmart Tuya Zigbee kit
If you in the market for home automation, especially Zigbee based, Xiaomi MiHome isn't the only option out there. Recently, I had a look at Zemismart LED lights (Zigbee and WiFi-enabled) and I got my hands on BENEXMART Tuya Zigbee kit. It looks like competition isn't sleeping and this home automation kit is an interesting piece of hardware.
Benexmart Tuya Zigbee kit for home automation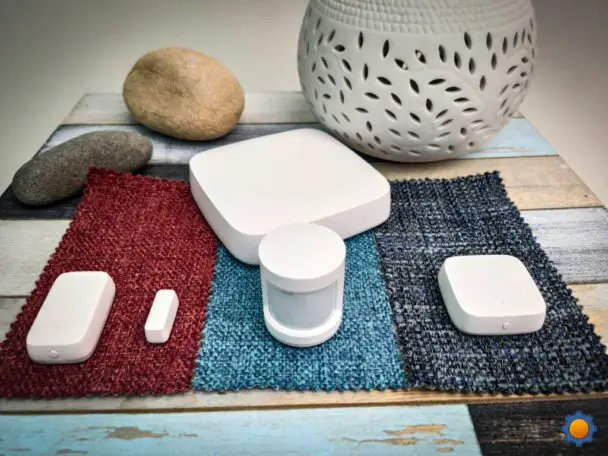 If you didn't use Zigbee sensors before, it's one of the better-suited mesh networks with low power consumption. On average, Zigbee sensors have a couple of months of lifespan on a single coin cell battery. This is ideal for sensors.
Benexmart Tuya Zigbee kit comes with the following sensors:
temperature and humidity
door sensor
PIR sensor
Zigbee Hub
I recently developed a love for Zigbee gadgets as thanks to Zigbee2MQTT you can mix and match the different brand and integrate all sensors, lights and other devices with NodeRED. I'm pretty sure I will come up with some excellent uses for these sensors soon. For now, I will focus on the off the shelf functionality.
Benexmart Zigbee Hub and Tuya app
The hub is just a link between the internet and your Zigbee sensors. Unlike the MiHome Hub, it does not come with any special options. It's there to pair your devices and talk to it via the Internet.
If you used other home automation systems from China, you will feel right at home with Tuya app. The interface looks solid, and it's easy to find the options you need. The app integrates with both Google Assistant and Alexa, so you have your smart home covered. If you need to take the automation further, there is also IFTTT support!
There is a tab for basic automation. You can perform simple actions like "turn the socket on when the temperature reaches X" etc. The interface is clear and very simple to use. The app reminds me Xiaomi Home app, so if you used it before – you will know your way around the app.
Sensors linked to the app are super responsive. There is almost no delay between the PIR or door sensor trigger and notifications issued to your phone.
PIR Sensor
This thing is seriously small and cute. It comes with 2 stickers, and you could place it in the smallest of corners. It's very responsive and it can trigger every 30 seconds. Unlike other PIR sensors, there are no potentiometers to set the sensitivity or timeout on the sensor itself.
Door Sensor
It's also very small which makes it less visible. It's very responsive and uses the hall sensor to detect the door opening. I actually have 2 project ideas in mind with this sensor – I will link it as soon as the projects are complete!
Temperature and humidity sensor
A small square-shaped gadget that you can place anywhere to gather information about the environment. It's designed for home use and transfers data every couple of minutes.
Conclusion
Disclaimer
The BENEXMART Tuya Zigbee kit has been provided to me for the purpose of the review. As usual, with all my reviews I reserve the right to an honest critique of the product.
I know for sure there will be 3 more articles starring the Benexmart Zigbee kit and sensors. In the next write up, I will pair the sensors (and router if possible) with CC2531 USB Zigbee stick and see how I can integrate these into NodeRED. Once successful, I will show you how to detect if the door is locked (yes, locked not closed) and how to hide your desktop when someone walks in.
You can buy the kit and the individual sensors on Amazon:
Amazon US
Amazon UK