A couple of useful Google tools when picking up passengers from the airport
My neighbors were out of town and I agreed to pick them up. As Nashville's baggage claim is either the world's fastest, or the world's slowest, they texted me when they landed and I waited a good eight minutes to head out assuming somewhere in the middle that day.
My plan was to drive to the cell phone waiting area, and even though I knew where it was I decided to Google Map it and choose to send my location in real time to them so there would be no "you here yet?" texts in case I got delayed on the route.
Post-pandemic Nashville traffic is tough to plan for also, and I was driving their baby-seat rigged vehicle instead of my car as well. I was not sure when I was getting there and I was not going to text and drive (and there is nowhere to stop along the way to do so safely). I also felt vaguely like their car wanted to kill me.
As I pulled into the cell phone waiting area my phone automatically read a text message out loud saying they had just got their luggage and where they were located. I pulled out of the cell phone waiting area and picked them up never having them once wondering where I was, and never having to glance at my phone to see the text message that they were waiting.
Both these tools are buried (auto read more than share location,) and don't work properly all of the time. They're also entirely signal dependent so if you or the recipient are in a large metal and concrete airport built in the 1960s, you might have some reception problems.
Maps, they don't love you like I love you
To get and send an ETA with exactly where you're at on a map sent to a recipient for the duration of a drive: open Maps, enter a destination, start navigation, there will be a bar at the bottom of the screen that has your ETA and distance. Slide that up, choose "Share trip progress."
At this point you should be able to share via most Android share options – text, FB messenger, etc. However I've had it refuse to do that correctly more than once, so be prepared to scroll over to find "copy to clipboard" and paste it to them in a text message (which is what I had to do this particular trip because choosing a recipient opened the chat, but didn't put the link in).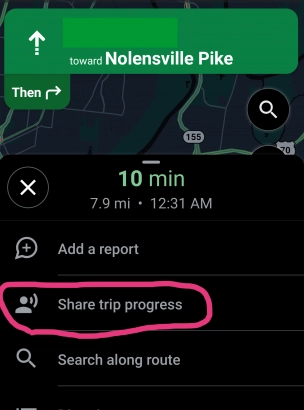 The location sharing ends when your trip does, or you exit navigation, or you choose to stop sharing. Depending on what the recipient is using, the map will be live updated (every little bit depending on your signal really,) and they'll have a running idea of where you are at and when you're getting there without texting you asking where you're at while you're driving.
Turn on auto-read
This one's been a bit tricky and seems to depend on whether you've got Google Assistant Driving Mode working or not.
With my system it shows sometimes, and not other times. It, being the driving mode launcher – mic and 4-boxes in the bottom of the screen. Seriously, it comes and goes as it pleases.
To make sure driving mode works you're supposed to say "hey google, open assistant settings" then tap on transportation, Driving mode.
Even then getting the driving mode bar to pop up to turn on auto read seems to be a one in three chance for me. (Unrooted phone, stock Samsung S21 Ultra, it's not me Google, it's you.)
In driving mode/google maps with a destination there's supposed to be an app launcher that looks like 4 squares. If it's there, great, if not I don't know what to tell you. I've been able to get it to appear by going into maps settings and backing back out to navigation. It doesn't always appear.
Press that, press messages, turn on auto read there.
Do all this well before you start the pickup trip
Should go without stressing it more, this doesn't work all the time, will require looking at the screen some, opting into a couple of things, allowing Google Assistant access to your messages, and will delay your trip by a few minutes if you're not familiar with this.
Do a dry run in your living room, enter a destination, share and send the link to yourself or a loved one, open it in an incognito window have fun with it before you try using it.