Tronsmart Bang SE Portable Party Speaker review
The Tronsmart Bang SE Portable Party Speaker can deliver a solid 24 hours of playtime, charge your phone, deliver a synchronized light show, and is extremely portable and fairly loud.
Hey guys, this review is pretty hard because there's not anything to complain about that I can find. By all accounts and testing I have done this is a fairly good little portable speaker with no obvious drawbacks in terms of sound, battery life, distance, etc. Literally the only thing I wasn't completely happy with was the strap (and maybe finish,) and that's just preference.
The music? Fine… this probably can bring the party to a largish space – I'm going to say about 20×20 and 12 or so people in a room and that's what this would shine at. You have more than 12 people? The Tronsmart Bang SE might not be for you then. Trying to cover an outdoor normal swimming pool? 40 watts is going to give you about 2/3rds.
Bass is faked well, as well as having bass that is actually ok. It's a solidly well built waterproof speaker that you can pair with another to have true stereo separation if you want that. You can dip it, dunk it, dry it out and keep on playing. You don't even have to dry it out.
They claim 24 hour playtime… I couldn't devote more than a few hours at max volume in my basement with a spare phone due to it becoming excessively distracting however. There are no battery indicators so no idea what level of draining I managed to do.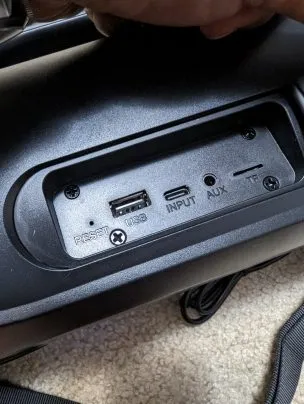 Tronsmart Bang SE specs
Bluetooth 5.3 / 15M/49 feet range (I got more in direct line of sight)
Type C power input / charging
40 Watt power (I assume split between 2 woofers and two tweeters)
IPX6 (waterproof)
60Hz-20kHz
4.63 pounds / 2.1kg
The battery size is not specified in the specs online but 2amp charging and a full charge time of <5 hours probably means the battery is somewhere in the 8000-10,000mAh capacity in case you want to charge your phone while bringing the party.
I really have no complaints on this. Just some commentary on a strap and maybe the finish and that's entirely preference. Sounds good, not the best, not the loudest, but pretty darn good.
As of right now they're on special on Tronsmart's site.
Also told there's a code of "bangse22" but I do not know if that's Tronsmart or Amazon.
You can grab them on Amazon now as well.
Tronsmart Bang SE
Need to bring the party? The Tronsmart Bang SE has you covered with 24 hours of playtime, a waterproof enclosure, and phone charging abilities
Product Brand: Tronsmart
Pros
Loud
Waterproof
Large battery
Cons
Finish
Carry strap
Manual