Archos 5 Internet Media Tablet features and reviews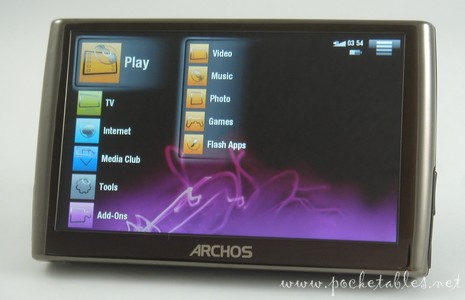 Click on a title to read the full post and view accompanying photos.
Web browsing battle: Archos 5 Android vs Archos 5 IMT
Now that we've seen the new Archos 5 Android and the old non-Android Archos 5 Internet Tablets face off in photos, let's take a look at how the two ARM Cortex A8-powered devices compare in terms of their web browsing experiences…
Archos 5 Android and Archos 5 IMT face off in photos
My year-old Archos 5 Internet Media Tablet was very unhappy yesterday when a thinner, lighter, more powerful version of itself waltzed into Pocketables HQ and had the audacity to demand that it be addressed by an almost identical name…
Review: Noreve Archos 5 vintage leather case
Once I determined that the Archos 5 official protective case was a waste of money, I followed the well-worn path to Noreve, one of my favorite gadget accessory manufacturers, and took a look at their tradition leather case…
Archos 5 firmware 1.2.05 brings email out of beta
The Archos 5 and 7 Internet Media Tablets received a firmware update (version 1.2.05) yesterday and at the top of the list of new features is something that should have been included since day one: release version of the email application…
Review: Archos 5 protective case
Even though the makeshift case I've been using with my 250GB Archos 5 for the past month has kept the Internet Media Tablet in pristine condition, my penchant for gadget accessories made it impossible for me to resist the official protective case…
MID battle: Aigo P8860 (Intel) vs. Archos 5 (ARM)
Even though Archos isn't using the "MID" term to describe its new range of Internet Media Tablets, there's no denying that it is a mobile internet device with many of the same capabilities and even some of the same design elements as Intel's original…
Review: Archos 5 mini dock
One of the most affordable ways to expand the functionality of the Archos 5 Internet Media Tablet is to snap on the optional mini dock ($30). The small plastic accessory allows the unit to play videos on a TV, transfer media files directly…
Website load times compared: Archos 5 vs. iPhone 3G vs. Nokia N810
In my Archos 5 first impressions piece, I said that the Internet Media Tablet's ARM Cortex A8 processor and Opera 9 browser create "the best ARM-based browsing experience around right now and [is] definitely the one to beat." To qualify that…
First impressions of the Archos 5
Though it's been nearly a week since I hunted down and unboxed the 250GB Archos 5, today was the first day I really got to sit down and play with it. Issues with my travel router, a mild case of jet lag, and the process of getting settled back…
Archos 5 Internet Media Tablet lakeside unboxing
We're headed back to California this afternoon after a wonderful weekend in Reno.The weather is so nice here that we couldn't help but pull into Sand Harbor in Lake Tahoe before saying goodbye to Nevada. As my husband collected…
See more news about the Archos 5 at Pocketables.