With Christmas less than two months away, now might be a good time to explore an alternative to the iPod Shuffles and Nanos that will no doubt be stuffed into many a stocking this year: the Creative Zen V.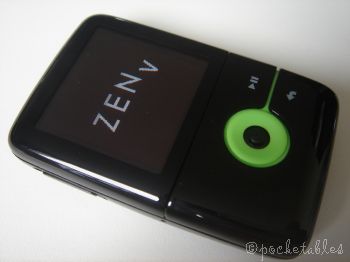 The flash-based V is the less expensive, bare bones version of the Zen V Plus (ZVP) that was released this past summer. Both players are available in black and white with accent colors based on storage capacity (orange for 1GB, green for 2GB, blue for 4GB), but the ZVP can also be had (or at least preordered) in all pink (2GB) and black with red accents (8GB). Further setting apart the two models are the ZVP's FM tuner and video capabilities.
I purchased the Zen V in September because I don't listen to the radio or want to watch videos on a 1.5-inch screen. Now that the ZVP is available in pink, however, I'm checking Amazon every day for its debut. In the meantime, read on to determine whether the V would be the perfect gift for that music lover on your Christmas list.
System specifications
Storage capacities: 1GB, 2GB, 4GB
Supported audio: MP3, WMA, WMA-DRM, Audible, WAV
Extras: Photo viewer, voice recorder, line-in recording, organizer, removable disk
Dimensions: 2.7" x 1.7" x 0.6"
Weight: 1.6 ounces
Box contents
The Zen V is my seventh Creative DAP and sadly has one of the worst accessory bundles included with it.
In the box are a pair of earbuds (Creative's standard EP-480 model), lanyard, USB 2.0 cable, line-in cable (okay, this is a decent addition), software CD, and one of those pathetic drawstring velvet pouches that Sony used to be known for.
Why do companies throw in pouches like these? They're about as effective as a Ziploc bag. Creative used to include more decent cases in their earlier players (e.g., fitted leather for Nomad Jukebox, magnetized rubber-like case for MuVo Slim, and silicone skin for MuVo N200), so I'm really disappointed by the cheesy velvet numbers paired with newer devices like the ZVM and V.
Another letdown is the omission of an AC adapter. Using the included USB cable, the V takes an outrageous six hours to receive a full charge. If anything, Creative should've left out the cable, as they're not proprietary and everyone has about a hundred of them laying around.
The software CD contains Creative's Zen V Media Explorer and Media Source for transferring and syncing media and other files between the V and a PC. Both are easy enough to use, but Media Monkey, Windows Media Player, and other music management apps work just as well, if not better. The player is also an MTP device, so if you're running Windows XP with all the latest updates, you can just drag and drop content through Windows Explorer.
Design
What the V lacks in its box, it makes up for in its design. It's not the sleekest player out there, sure, but it's still very nice. It's so glossy, in fact, that the only way I could get a halfway decent picture without reflection and glare was to place it in a white box. (This created a lot of shadows, but compromising the white background is better than compromising the subject of this review.)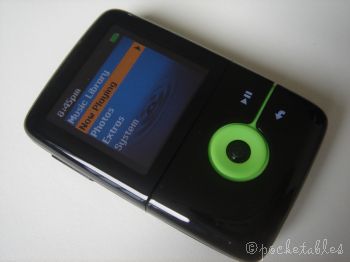 The surface is smooth, and the player is lightweight and comfortable to hold. Unlike its big brother the ZVM, the V is not made out of butter-soft plastic that scratches when you breathe on it. In fact, Creative has employed an amazing scratch-resistant surface on the player that honestly withstands the wear and tear of everyday use.
Size
To illustrate size, early pictures showed the device next to a box of tic tacs. The comparison is a good one, but I'm not sure how many people have tic tacs at their disposal. I think more people have loose change and a deck of cards around the house than a specific brand of breathmint.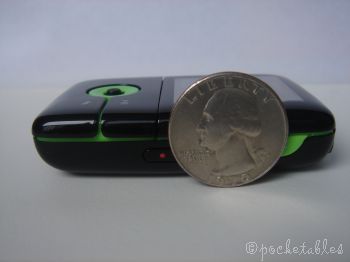 Even though the V isn't the thinnest DAP on the market, it's still only about a half-inch thick. I don't understand the obsession with paper-thin players: they're not comfortable to hold and they're barely three dimensional.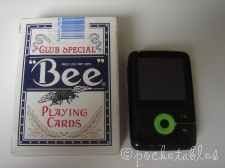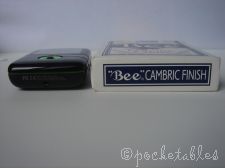 Controls
When I first saw the V, I thought the play/pause and back buttons on the front looked really weird pushed to the right. The green line coming from the purely decorative circle around the joystick looked odd as well. I like the layout now, even though it seems better suited for left-handed users, but I admit that it took some getting used to.
Same goes for the joystick. I actually didn't know until I had the player in my hands that the joystick was even a joystick. From all the press photos, it looked more like an OK/enter button in the middle of a multidirectional controller (like the one on the Sony mylo). I'm still surprised that the surrounding circle has nothing but aesthetic value.
Even though it's really small, the joystick is responsive and easy to use. It protrudes far out enough so that you don't need to smash your thumb onto the surface to get ahold of it. The slightly bumpy texture ensures a secure grip; I've never encountered any problems with my thumb slipping off of it.
On the left side of the player are the power/hold switch and pinhole reset button.
On the right are the volume controls and record button.
The top is packed with ports/jacks: line-in, headphone, and USB. I really like that all of this is built into the player because having to carry around a separate subpack/dongle (like with the ZVM) is a pain.
There's nothing but the lanyard loophole at the bottom. While it may seem strange to hang the V upside down from your neck, it actually makes a lot of sense when you want to view the screen. Just look down and the screen is right-side up. The display can also be rotated (more on this below) to appease onlookers who think that the device is defective or you're an idiot.
The back of the V features Creative's now-standard Zen ripple, which gives the player some character and an interesting texture.
Display
The Zen V is equipped with a 1.5-inch OLED 128 x 128 display. The advantages of an OLED over a TFT are low power consumption and excellent viewing angles, but personally, I don't think either of these outweigh the disadvantage: image quality. OLEDs aren't as crisp, bright, or colorful as their TFT counterparts. Text appears a bit jagged and detailed album art has a certain original NES Super Mario quality to it. The screen isn't horrendous, but I was definitely less than impressed when I turned on the V for the first time. I may have even let out a little "ugh" or "yuck," but that's only because I'm used to oohing and aahing over bigger and better screens. So my initial reaction should be taken with a grain of salt.
The stock photos preloaded onto the device look decent, but I'm not sorry that the V doesn't have video capabilities.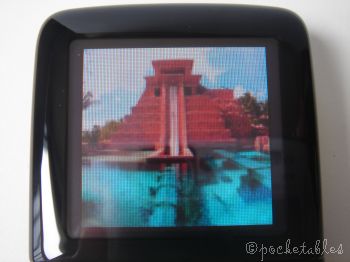 The display's saving grace is its ability to rotate in 90-degree intervals. The joystick's directions rotate accordingly as well, so you don't have to retrain your brain when you want to make your way through the menus.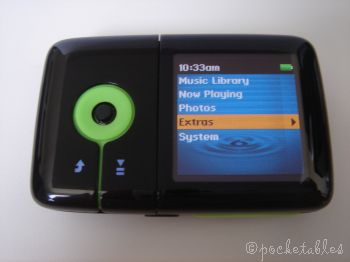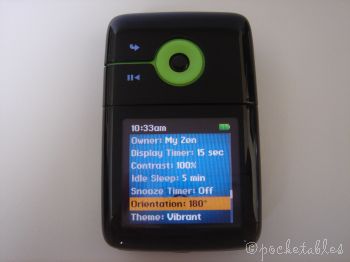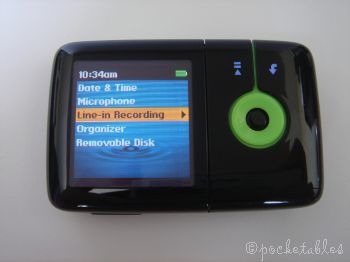 Graphical user interface
The V is equipped with a similar version of the GUI found in Creative's other players, most notably the ZVM. At this point, it's basically an unmitigated fact that the interface is the best one around. Even Apple agrees (you may recall the lawsuit that ended with Apple shelling out $100 milion to use Creative's patented system in the iPod). There's very little to say about it, then, other than that it's highly customizable, intuitive, and easy to use.
Navigating through the system is incredibly simple. It's so straightforward and logical, in fact, that the patent seems quite silly. Organizing a lot of music according to artist, song title, album, and genre isn't a mindblowing invention, but I suppose that's beside the point.
To illustrate the simplicity of using the V, here's a mini tutorial on how to play an album.
Turn on the player by sliding and holding down the power switch.
Use the joystick to highlight "Music Library" in the main menu.
Push the joystick down or to the right to go the "Music Library" screen.
Use the joystick to highlight and select "Albums."
Select an album and hit the play/pause button.
Since the V maxes out at 4GB, it can only hold a limited amount of music. This is actually a blessing in disguise because the joystick doesn't have a rapid-scroll feature. The scroll rate is more than adequate as it is, but a boost in speed is always a good thing.
Sound quality
With so many DAPs out there, it's easy to forget that the most important aspect of any music player lies underneath the shiny bodies and beyond the bells and whistles. Questions about what a device looks like, what it comes with, how long the battery lasts, what kinds of accessories are available, and what else it can do overshadow what should be the real concern: how it sounds.
So how does the V sound? In a word, fantastic. Sound quality is highly subjective and depends on what's plugged into the headphone jack, of course, but Creative has always been regarded as one of the leading manufacturers of devices that produce exceptional sound. Even in professional tests using audio analyzers and other instruments, Creative consistently scores high marks (and it comes out on top in terms of signal-to-noise ratio).
Even more relevant than audiophile test results is what everything sounds like to you. To me, the Zen V sounds great: clear and crisp with no distortion even at high volumes. There's a 5-band customizable EQ for the audio-savvy and 8 preset EQs for people like me. I'm really happy using the Rock EQ with the Bass Boost turned off. It's the perfect setup when my Sennheiser CX300S IEMs are plugged in or I'm hooked up to the Klipsch iGroove.
Extras
Although the V isn't equipped with an FM radio or video player, it still has a nice set of features.
Photo viewer
The photo viewer is more of a secondary feature, but since the OLED doesn't make for a particularly thrilling viewing experience, I'm lumping it together with the other extras. Photos are arranged in folders and can be set as wallpaper or played in a slideshow (3-, 5-, 10-, and 15-second increments) with or without music. There's also a zoom feature, which would be more useful on a bigger screen with more resolution and improved clarity/crispness.
Voice recorder
The built-in microphone is good for recording short memos and reminders about where the car is parked. The output files are in WAV format and sound okay. I don't think bootleggers are running out to buy the V, but it does its job for a personal voice recorder.
Line-in recording
The line-in feature is one of the best extras I've ever seen on a DAP of this class. The supplied line-in cable enables direct encoding from just about anything with a headphone jack, which is perfect for recording from a CD or even another DAP when there isn't a computer nearby. An external mic can also be plugged in for recording large events or class lectures.
Organizer
I like gadgets with PIM functionality, even if it's very limited. (You may remember that the lack of PIM was one of my complaints about the Sony mylo.) The Zen V's organizer function comes with a read-only calendar, task list, and address book that can be synced with Outlook and edited using Creative's Media Explorer software.
Removable disk
Being able to partition a portion of internal memory for use as removable storage is a little silly for a 2GB player, but it's still a great option. Although nothing stored in the partition (which can be set at standard capacities between 128MB and 1.5GB) is playable or viewable on the V itself, the feature is useful for shuttling documents and other files between different computers.
Battery life
Creative rates the non-removable battery at 15 hours, which I've found to be accurate when listening to 192kbps MP3s at mid-volume. By today's standards, 15 hours is actually on the lower end of the scale. However, unless you'll be escaping from civilation for a few days, battery life is more than sufficient for typical usage. And since the V charges via USB, you can keep the player plugged in all day at the office and leave work with a full charge.
Conclusion
The Creative Zen V is well priced at $80 (1GB), $110 (2GB), and $150 (4GB) through Amazon. The included accessories are a joke and the OLED is far from impressive, but the player shines in the area that matters most: sound quality. Screen rotation, line-in recording, and other extra features make the V (and ZVP) not only a notable contender in the flash DAP market but al so a holiday gift that's sure to please just about everyone on your list.