Nurian Z1: Miniature clamshell iBook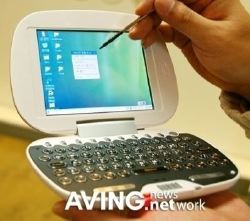 It's being called an electronic dictionary, but the upcoming and tentatively named Nurian Z1 (what?) by Hannuri Biz (who?) looks more like a clamshell iBook to me.
Its operating system and other features don't cry out "e-dictionary" either. The device runs Windows CE 5.0 Professional and has a 5-inch touch screen, wi-fi connectivity, and full QWERTY thumboard. Not exactly a UMPC, but certainly not just an e-dictionary! Additional specs on the little gadget are unknown, but you can at least see a few more pics at AVING USA. Hannuri Biz's current product catalog (excluding accessories) ranges between about $136 and $544, so I'm assuming that this will be priced along those lines as well. Depending on the processor and the internal storage capacity, even $650 wouldn't be too bad.
In any case, pricing isn't the issue at this point. It's availability. The Nurian Z1 is scheduled for a Korean launch in February 2007. Electronic dictionaries are actually all the rage in Asia, so if the media continues to slap the label on the Z1, I don't think it will ever reach U.S. shores.
If it does, though, I hope it befriends an American-dream-chasing Samsung SPH-P9000 along the way.