More details on Nurian Z1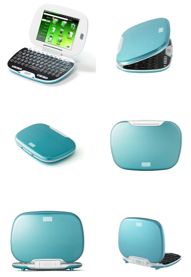 It should come as no surprise that the Nurian Z1 will never see a U.S. release, but it bears repeating because the company just confirmed it to me via email. Likely because of its Korean exclusivity, there isn't a language option to convert the UI into English. This is definitely a shame, but I'm still not completely dissuaded (likely because I'm becoming rather attached to the all-Korean iriver D26).
In more uplifting news, it appears that the Z1 just got its own website: pda.mynurian.com. I don't know what all the "CF" stuff is about, but it's on the My Nurian site, too. Something about the Z1 CF 15, Z1 CF 20, and Z1 CF 30. Babel Fish can't make sense of it either, even though it had no problem translating my email (I probably should've expected everything to be in Korean, but I was still caught off guard):
"Jet won is the electronic dictionary which does the Korean alphabet window CE with operation setup. English setup it does not support so far. The poem which will be following fluctuation fact, common knowledge it will do in our home page. We do not do an overseas boat Song sale still. Thank you."
Well, okay, it had some problems.
Can anyone do better?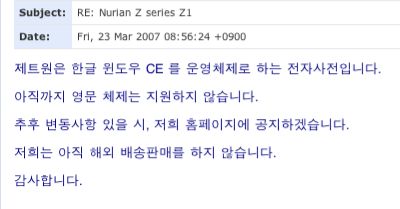 I'll be keeping an eye on eBay . . .