Samsung YV-150 for digital voice recording
Because a lot of digital audio players these days are equipped with built-in microphones for voice recording, a common question I get asked is how well suited a particular device is for the task. My usual response is that a dedicated voice recorder is always a better choice for capturing class lectures and whatever else people want to record.
Now I think I may start recommending the Samsung YV-150, which was initially spotted a few months ago but is now making its rounds again with additional storage capacity and better pictures. Bundled with a hands-free mic and phone adapter, the 3.8" x 1.3" x 0.7" YV-150 is able to record 66 hours of content at 32kbps (16 hours at 128kbps) via the integrated mic or an external one plugged into its mic-in port. Playback times off the 2 AA batteries it needs to run are estimated at 20 hours through headphones and 15 hours through the built-in 150mW speaker on the back.
The YV-150 can also be used as an MP3/WMA player, but with only 1GB and 2GB models to choose from, it's probably better as a recorder. There's also some sort of text-to-MP3 software included, but I'm not really sure how it works or why it's included.
Pricing and availability are unknown at the moment, but when folks in China were able to get their hands on the device back in May, 512MB and 1GB versions were reportedly going for about $165 and $200, respectively.
Not sure who's going to buy it at those prices, but as far as voice recorders go, this one is pretty easy on the eyes.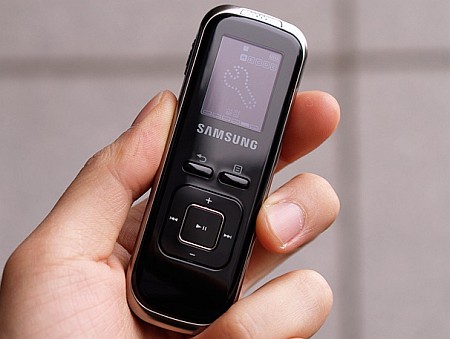 Check out popco.net for more pictures.
[via
dapreview
]