UREN V1 UMPC comes to U.S. as Jensen NVX3000PC
The most interesting thing about Jensen/Audiovox's recent announcement of the NVX3000PC "Anyware" UMPC, other than the fact that it's a rebranded Innowell UREN V1, is that it was actually already shown at CES 2007.
Based on the pictures AVING snapped back in January, it would appear that the NVX3000PC and the UREN were displayed side-by-side near Innowell's equally horrifyingly named "Car Infortainment" booth.
Nothing seems to have changed since then, so the GPS-enabled devices still runs Windows XP and has a 7-inch display (800 x 480), 30GB hard drive, 256MB of RAM, wi-fi, Bluetooth, and SD card slot.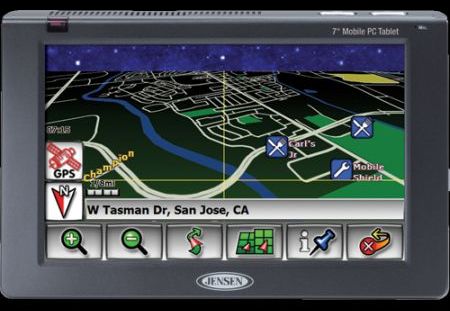 The NVX3000PC is steeply priced at $1500, but several retailers are already selling it for less. Beach Audio, for example, has tagged each of the four units it currently has in stock at $1170.
[
ultramobilelife
]