Trouble using AT&T Tilt rebate (Visa debit card)
The last I heard of the lawsuit charging AT&T (when it was called Cingular) of falsely advertising cell phone rebates that turned out to be Visa debit cards was that the federal court in San Francisco rejected the carrier's request for the case to be dismissed.
The court issued the ruling in July 2007 and judging by the $100 AT&T Promotion Card I just received for the Tilt I bought in December, my guess is that not much has happened since then.
I knew when I submitted my rebate form that I would be getting a prepaid Visa card, but I had no idea how difficult it would be to use online. Those involved in the original lawsuit, which was filed in June 2006, had mentioned that the card carried lots of restrictions, expired in 4 months, and required jumping through hoops to actually use, but with no explanation of what these restrictions and hoops were, I assumed that I wouldn't run into any problems. I mean, how hard could it be to use a Visa card?
Quite hard, actually.
Although the card bears the Visa logo and can therefore be used "anywhere Visa is accepted":
It cannot be used to obtain cash at a bank or ATM.
Merchants must run the card as a credit, not a debit, transaction.
When purchasing goods that exceed the available balance on the card, the difference must be paid using an alternate method first. Then the merchant must process the card for the exact amount available on the card. For example, AT&T suggests that customers tell merchants, "Process this card for $22.41."
It cannot be used to pay for gasoline at the pump; it must be taken inside the station.
Restaurants may add 20% to the total authorization placed on the card to account for tip.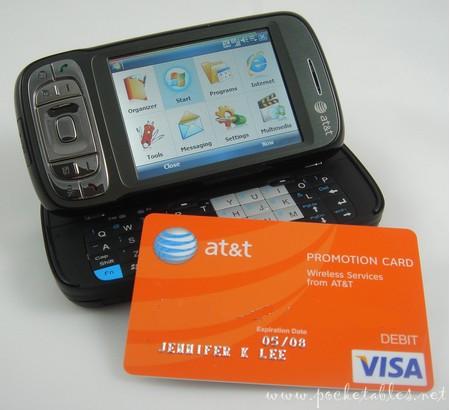 I do most of my shopping online, so that's where I decided to use the card. Since it was prepaid and I didn't have the option of telling anyone how much to charge against it, I assumed that online retailers would treat it as a gift card. It's good for $100, so I figured that $100 would be deducted from my total (which happened to be $109) and I'd be asked to provide a secondary method of payment to cover the difference.
Instead, the card just got flat-out declined.
So I canceled my order and tried to use the card to buy a $100 gift certificate instead. I didn't anticipate any problems because the amount I wanted was exactly the same as the available balance on the card. You know from the simple existence of this post, of course, that I was mistaken in thinking that nothing would go wrong.
It's now been a whole week and the gift certificate purchase has not been approved. According to my account, which is accessible online, my available balance is now $99 because of a $1 transaction that has been pending since February 2nd. I pored over the FAQ, terms and conditions, and everything else I could find buried at the bottom of my account page until I finally found this:
"If you swiped your card and the transaction did not go through, your card's funds most likely are on hold. It usually shows as a $1.00 charge but could be for the entire amount that you had attempted to use. This hold will drop off after 10 days. The total amount of funds will return to the card at that time and be ready for use."
Lovely. A 10-day hold that could be placed with no explanation or notification. I suspect that the funds were put on hold because I tried to buy the gift certificate the same day I canceled the first order, but shouldn't I at least have been notified?
Neither the merchant nor Visa/AT&T (not sure who's responsible here) has alerted me to any problem. If I had sent the gift certificate to a friend, I wouldn't even know it still hadn't been sent. My friend would just think I forgot his/her birthday (or whatever), and I would just think he/she was being rude for not acknowledging the gift. Yeesh.
Anyone else had problems using their "rebate" from AT&T?