Yappa Aquatic Spin UI on Willcom D4 UMPC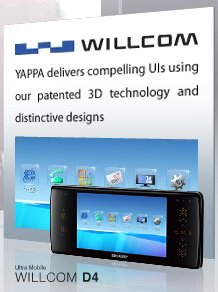 Now that the Atom-based Willcom D4 has just become better than ever, I'm hoping it won't just be me and the crickets at those D4 fan meetings for much longer. Once membership picks up, our first order of business (aside from adding internal HSDPA) will be to get Yappa Corporation's Aquatic Spin UI up and running on our English units.
The user interface, developed for Willcom, was announced as the D4's UI solution (PDF) nearly five months ago but hasn't been seen in action since Akihabara News tested an unimpressive alpha version several months before its official release.
What happened to it?
I've got Brett from Conics.net on the case right now and am hoping to hear from Yappa's media contact on the matter as well. In the meantime, read on for Yappa's description of the ocean-inspired Aquatic interface.
The UI 'AQUATIC' developed for WILLCOM has been designed taking the concept of the ocean, and by selecting the menu, the menu layers align itself with the layers of the ocean. Once the icon from the sea level layer is selected, the icon sinks down into the ocean to the second layer, and then moving down to the third layer. Spin UI enables seamless movement particularly when the icon drops downward. Additionally, users can trace the touch panel for screen transitioning delivering a unique interface. As a result, users are able to get a more intuitive feel by freely moving between layers of the menu.
The interface may not be available in English, but everything looks so icon-driven that it probably doesn't matter.
Without using the UI myself or seeing a final-version demo, I'm assuming that it can be likened to Microsoft's Origami Experience 2.0. I never use OE 2.0 on my HTC Shift, but I think a variation of it (which is what I think Aquatic is) might work well on the D4's smaller screen. Its high resolution, paired with Vista, is hardly optimized for fingertips; Aquatic could change this. It would just sit on top of Vista, of course (i.e., the meat of the OS would still be reliant on the stylus/cursor), but I'd still like to give it a try.
Update: Here's a nice overview by Sharp.