Using a UMPC as an iPad file transfer unit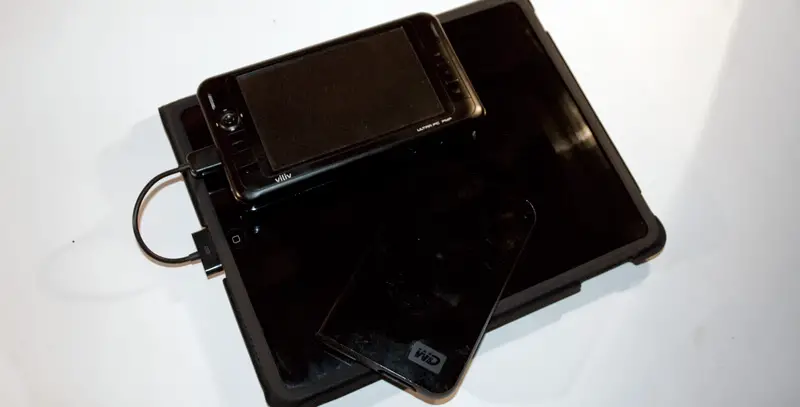 I've previously written about how you can get files onto the iPad, and while you can do pretty much anything you want with those methods, I found another way of doing it: using my Viliv S5, which I've written about several times as being a dust collector since the iPad came into my life. Not many people have Windows based UMPCs lying around, but this works with any Windows PC- the Viliv S5 is simply so small that it makes it more portable. This method utilizes a small fact that many people are unaware of: transferring files using the app tab in iTunes does not constitute a normal sync, and so you can use it with other PCs without having to fully sync it every time (and losing everything on it). That means that even if you normally sync your iPad with a laptop or other "full sized" computer, you can still use any other computer to transfer files directly to apps.
This means that if I have my S5 with me, I can get any file onto it (and a lot of files off it) at any time. Considering how small the S5 is, I can add it to my bag permanently and not worry about adding much bulk. It also has the ability to run BitTorrent clients, so you can use it to get your hands on all that legal torrent content out there- like Linux distros or Norwegian TV shows. I can also carry an external 2.5″ hard drive full of videos and transfer a handful at a time.
I am aware that (aside from the BitTorrent part) this is something that is only necessary on the iPad as most other tablets support direct USB transfers. Doing it the way I'm describing here is a hassle to say the least, and requires a device that is as expensive in itself as the iPad is. It's all a problem created by the iPad's lack of a file system. However if you already have the two components needed, or need to have an iPad over another tablet for some reason (like specific software only available on iOS) yet need to be able to transfer files back and fourth on the go, this is one way of doing it. All tablets have issues, and any way of countering those issues deserves a mention in my opinion, even if it's an impractical solution that few people end up actually doing. It is what it is.