Battleship Craft for iPad app review
I rarely write about games because the only way I ever find them is on a Top 10 Games list in an app store. That means that others have already found out about – and fell in love with – those apps, so there's really no point for me to tell you about them.
But this weekend, I found Battleship Craft. I wasn't even looking in any Top 10 lists; in fact, I don't remember where I was looking. The important thing here is that I found it. Whether that's a good thing is for me to know and for you to find out.
When you launch the app, you're greeted with the ship that you've built and three options: Singleplay, Multiplay, and Gallery. I'm going to focus on the Singleplay option; Multiplay never worked for me and the Gallery is just a way for you to admire your ship. After you select an option, you're brought to this screen. Up in the top left corner are three more options: Dock, Drill, and Battle. These are the two sub-options for the Dock. You can build a new ship or start with the one that's built into the game. The Drill options are Shooting and Battle, to help you get better at those skills. Lastly, the battle option is very similar to the Multiplay option in that it doesn't work.
Here is the Customization screen. You'll be spending a lot of time here, since building a ship takes time and planning. The row of buttons on the bottom are there to simply help you build the ship. In order from left to right, there are buttons for ship information, adding a new block, changing the color of the new block, and deleting a block. The other two are undo and redo.
Adding blocks is a painless event. You're given a plethora of different blocks, ranging from armors of varying thicknesses to decks to even ballasts. To add a block, you just tap; if you want to add a row or column of the same type of block, you just have to slide your finger across the display in the direction you want them to go.
Some blocks are given to you for free, while others cost coins. Coins are gained by winning battles. The more coins you get, the more expensive blocks you can add to your ship.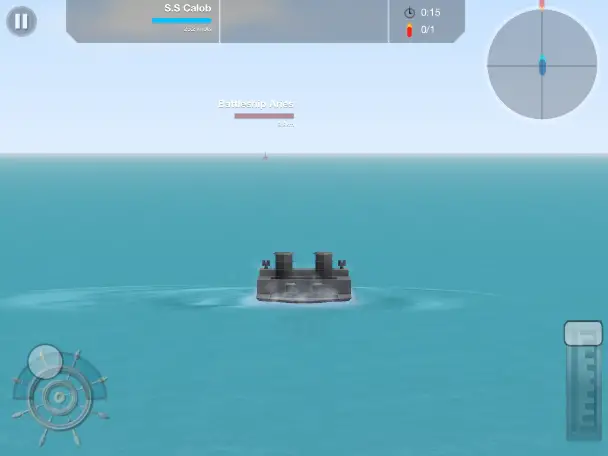 Once your ship is built and seaworthy, it's time to go sink someone else's. Head on over to the Drills tab, hit Battle, and begin. This is a game that's heavily based on physics: if you are going to fast and throw your wheel too far, you could tip over and sink.
The controls are easy to use. The throttle is in the lower right corner and can put you in full speed ahead – or backward. In the bottom left corner is your steering wheel. You can use one of five preselected directions for your ship's rudders, or you can manually control them and precisely steer your ship.
As you come closer to the opposing ship, you can tap on it and send your cannonballs (and any other projectiles) on their way to destroy it. Every hit takes something away from the ship, to the point that it starts sinking. It'll still float, but once weapons and propellers start going under and above water, respectively, those things will stop working.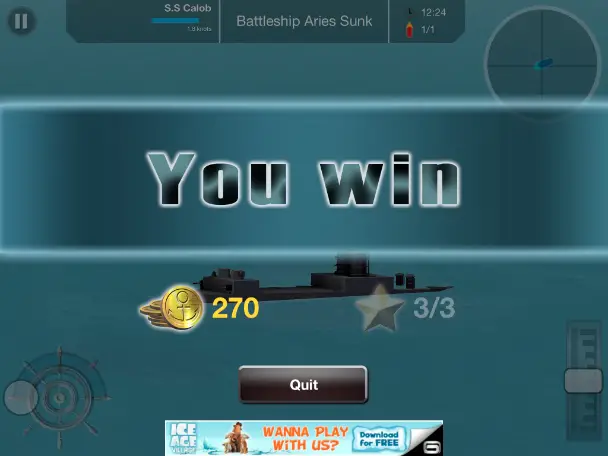 After you've sunk the other ship, you win!
Battleship Craft is a great time-waster. Although there are grammatical errors and one or two very minor gameplay issues, I've spent countless hours upgrading my ship and destroying the opposition already – and I can only imagine that's going to continue. The game is currently free on the Apple App Store. If you have an iPad, I'd highly recommend checking it out.
Download: App Store