The iPad may have over 225,000 apps, but it doesn't have everything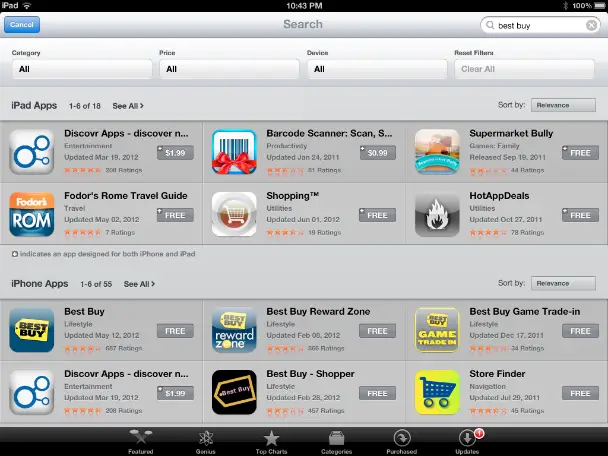 I planned a trip this weekend to the nearest Best Buy so I could try out some PC laptops as I continue my search for my MacBook Pro replacement. I had my iPad with me, and I had a WiFi connection, so I decided to go the app store to see if there was an iPad-optimized version of the big box's app.
Unfortunately, there isn't. If you own an iPad, you know that the App Store separates iPad and iPhone apps. The iPad is capable of running phone apps, but they're either very small or very pixelated. That's why I hardly ever download them – and didn't download the iPhone Best Buy app, either.
Apple constantly touts the number of iPad apps. As of the last Apple keynote, the number was at 225,000 iPad-only apps – almost half of the entire App Store. But even with almost 50% of Apple's entire app catalog dedicated to it, the iPad just doesn't have access to all the niceties – apps – that the iPhone does.
Granted, more often than not, companies' websites look and work fine on the iPad's large screen, but I'd still like to have access to an app right on my home screen whenever I wanted to look at what that store offers.
I wrote this primarily because of the upcoming Android 4.1 Jelly Bean tablet, the Asus Nexus 7. After reading various reviews, the biggest complaint was that Android's tablet app catalog was lacking. I understand that it is; I just have to use an Android tablet for a few minutes to understand that the majority of apps I'll be downloading are made for phones. But I want to clarify that the iPad's app selection, while better, is also lacking in some very basic apps.
I love tablets, but I really want to be able to do everything on them. Missing a dedicated Best Buy app isn't a big deal, but the lack of iPad apps like Microsoft Office is – and is also a big part of why I still carry around a laptop and am continuing my search for a new one.
How has your experience with tablet apps been? Are there any specific apps that you wish were on your app store of choice that aren't?