Apple opens up new App Store section for map apps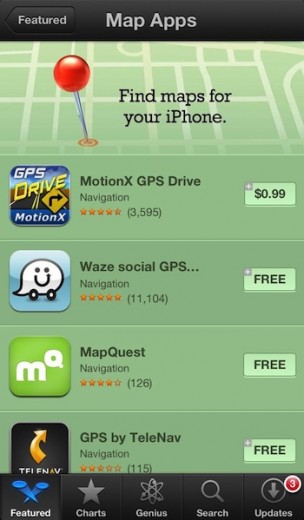 Hot on the heels of Tim Cook's apology letter, Apple has opened up a brand-new App Store section dedicated to finding alternative map apps for disgruntled iOS 6 users.
The section is called "Map Apps," and its tagline is "Find maps for your iPhone." At this point, it's fairly obvious that Apple is also very disappointed in its failure of a mapping app.
Cook's letter already highlighted a few of these alternative apps, like Waze and MapQuest, but this new section only makes it easier for users to find and install these better alternatives.
I'm still holding out hope that Apple will be able to get Maps to a usable state in a matter of time – but then again, Apple did release the app like this to begin with, so it could be a while before iOS 6 users can viably use Maps. Then again, Cook apologized to its vast customer base on behalf on the entire Apple team, so I think it's safe to assume that Apple's working as hard as it can in getting everything back to "the same incredibly high standard" that Cook prided the company on having.
If you use an iPhone, what Maps alternative has been your go-to mapping solution since the release of iOS 6?
[
Mac Rumors
]