Rovio is one of my favorite game developers. From Angry Birds to Angry Birds: Space, the developer has been able to dig into my wallet and take small amounts of money every time a new game is released. I'm not a Rovio "fanboy," but I've yet to play a game from the company that either lost my interest quickly or wasn't fun to me.
Naturally, then, when the developer released Bad Piggies, I immediately purchased it. I knew it was going to be a departure from its previous Angry Birds titles, but that didn't phase me in the slightest. I know from Amazing Alex that Rovio doesn't need to confine itself to one genre of games; it can make whatever it wants to.
With Bad Piggies, the company has done just that. It's made something that was out of its comfort zone, yet snugly familiar to the games that have brought it such amazing success.
But a very big question remains: did Rovio do it well? Did Rovio move out of its comfort zone to produce something that is another fantastic, lovable mobile game? Keep reading my review to find out!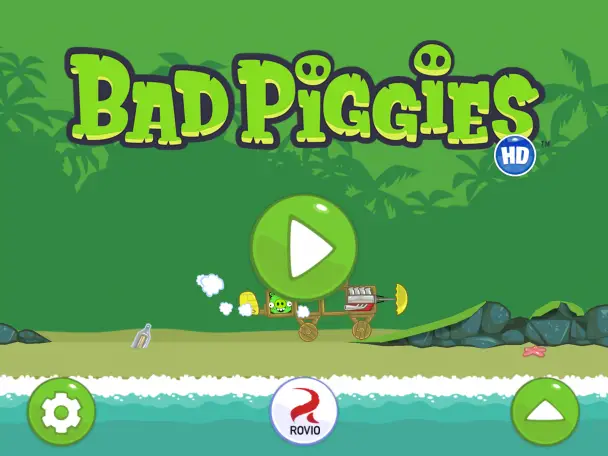 Starting out, the game is as simple as any other Rovio game: tap on big play icon on the first screen to head to the level selection. After that, you're presented with three currently-playable selections of levels, each having their own set of tools and parts to use.
Groundhog Day is obviously full of levels that keep your pig on the ground; When Pigs Fly is full of ones that send your pig soaring through the air; and Sandbox is full of levels that allow you to set your imagination free.
Gameplay is simple: basically, you have to get your pig to the end of each level – signified by a checkered marker – while trying to collect as many stars (out of three) as possible. Since you have control over your pig and the contraption that he's in, you can usually get a star or two out of each level, though some are harder than others.
Each level and each section will provide you with its own set of parts to use to create something that will get your pig to the end of the level. In addition to the section's own parts (i.e., a balloon in When Pigs Fly), each level has a different selection of them. For instance, some levels may have one part with which you can propel your creation, while others may have more, letting you move it in more than one direction.
Regardless of what parts you have, every single level is a fun challenge. Each level's design is thoughtfully layed out and takes a bit of careful planning to navigate through it. Making your contraption is another bit of fun, as there is no single way to successfully complete a level.
Each level's design is amazing in terms of difficulty, but they're also beautiful. Rovio has a way of making truly beautiful mobile games, a tradition that it's kept with Bad Piggies. Every pig, every part, and every element of the level itself – they are all incredibly beautiful and help to make the game even better.
Conclusion
Bad Piggies, like all of Rovio's other games, is just another amazing example of why mobile games are so much fun. I've repeatedly gotten lost in the game already, and I know for a fact that will continue. It's another instant classic from Rovio, thanks to amazing graphics, engaging gameplay, and an adorable story – all things that Rovio has, time and time again, been able to nail perfectly.
On Android, Bad Piggies is free. On iOS, it's $0.99 for the iPhone and $2.99 for the iPad. And at any price point, Bad Piggies is more than worth the money and download. It's one of the best mobile games I've played this year – and for that reason, I can't recommend it enough.
Download: Google Play
Download (iPhone): iTunes
Download (iPad): iTunes