Deal alert: 8GB Nexus 7 on sale at Staples for $160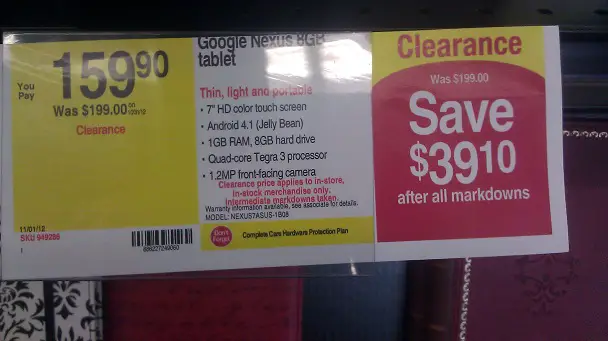 Those of you looking for a good deal on a new Android tablet might want to head to a local brick and mortar Staples store to check out the 8GB Nexus 7 tablet, which is now on clearance for only $159.90. (It doesn't appear to be on sale online.) This price is presumably available until each store is sold out, so you'll want to hurry if this interests you – especially with Black Friday on the way.
Personally, I'd opt for at least the 16GB Nexus 7 for $199, since the tablet doesn't have a microSD card slot. (I actually picked up a 32GB over a week ago, and couldn't be happier with my purchase.) However, if you're looking for something in the sub-$200 range, you can't really go wrong with this. There are tablets that are cheaper, but the quality just won't be there when compared to the Nexus 7. Not only are you guaranteed timely software updates from Google for the foreseeable future, but I've found the physical build quality of the Nexus 7 to be superb, as well.
[
Slick Deals
]