Handwriting on the iPad mini actually works rather well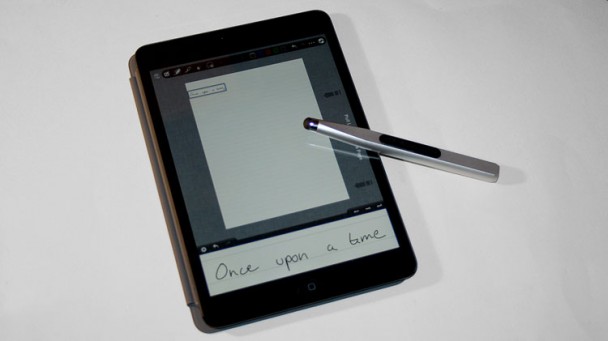 One of my big concerns about the iPad was that the smaller screen means less screen real-estate to use for thigns that require a physically large screen, especially handwriting. I know I'm the minority here, but I do more handwriting on the iPad than I do normal typing. I simply find it easier; When you get used to using partial magnification tools to make sure you stay accurate with an otherwise inaccurate stylus, it's simply quicker. Annotating PDF files is even more handwriting-biased, as most annotation software can't even insert machine text into the document – only as notes. Point being, it's an important feature to me, and I was afraid I would have to keep a full sized iPad for that use alone. 
Luckily, I was wrong. After having used the iPad mini for a full day of lectures, I have to say that it didn't take me long to get over the smaller screen. It essentially means you use the auto progression feature (which moves the zoom box automatically when you reach the end of the screen) more often, and that's more or less it. I took three pages worth of handwritten notes using the mini in portrait mode today, and I thought it was a perfectly natural thing – natural for someone used to writing that way, anyways.
What's more, the iPad mini actually makes a lot of sense as a notepad – because it's that size. I couldn't imagine taking notes on the iPad 2 while holding it, but that's perfectly possible on the much lighter iPad mini, I still prefer putting it down on a tablet, but at least I have the option to walk around with it.
As for stylus use, I'm currently half way in between styli. I love my Maglus V2, but because Apple moved the location of the magnets in the iPad mini Smart Cover, the Maglus doesn't work properly with the iPad mini Smart Cover. Because of its magnets, it lacks the pen clip that's common on other styli, and that actually makes it less suited to be carried around on any device that doesn't have a full sized Smart Cover. At the same time, it's my favorite stylus as far as accuracy goes. I may end up getting a set of spare nibs for my two (!) Wacom Bamboo styli, as those actually have pen clips, or I might see if I can get the Maglus to be a bit more iPad mini friendly.