What lack of LTE? HSPA+ speeds on the LG Nexus 4 are still very good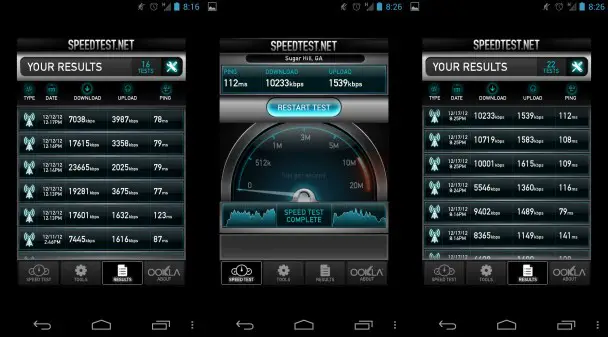 The LG Nexus 4 is without a doubt a very good Android smartphone, but the lack of LTE is a major cause for concern for many potential buyers and users. As we found out last week, the Nexus 4 does have a LTE radio in it, and can function on some of AT&T's LTE network, but the compatible towers are so few as to make the tweak impractical. While some buyers may be waiting for more information on LTE support, I'm completely happy with the Nexus 4's HSPA+ connection as it is.
In the screenshot on the left, you can see the top download and upload speeds that I've gotten so far. These tests were performed in downtown Atlanta, which is a strong coverage area but also a large city with many users. The top download speed was 23,665kbps, while the highest upload was 3,987. While the upload speed is a bit low, the download speed is on par with the higher results that I was getting from the Droid RAZR MAXX HD. The results on the right are more consistently what I get at home, and download hovers just about at 10,00kbps with upload speeds at about 1500kbps. This may not sound very fast, but in regular use there is little difference that I can tell from LTE. Netflix still streams in high quality, websites load quickly, and there is very little time wasted waiting on the network.
The one slight problem that I do have with HSPA+ on the Nexus 4 is ping. With some LTE devices, I've gotten ping times in the low teens, while consistent times were in around 20ms-30ms. The slightly higher ping of HSPA+ at about 75ms does impact perceived speed somewhat, but isn't too big of a problem most of the time. I think it could present some lag when tethering, but otherwise the higher ping isn't too much of an issue.
While LTE would doubtless be a bit faster than HSPA+, I've found that T-Mobile's pseudo-4G network still works quite well for all normal smartphone usage. The speeds might not support multiple devices as a mobile hotspot very well, but for nearly every regular use of data on the Nexus 4, HSPA+ performs quite well.