Google Voice extension for Chrome updated April 1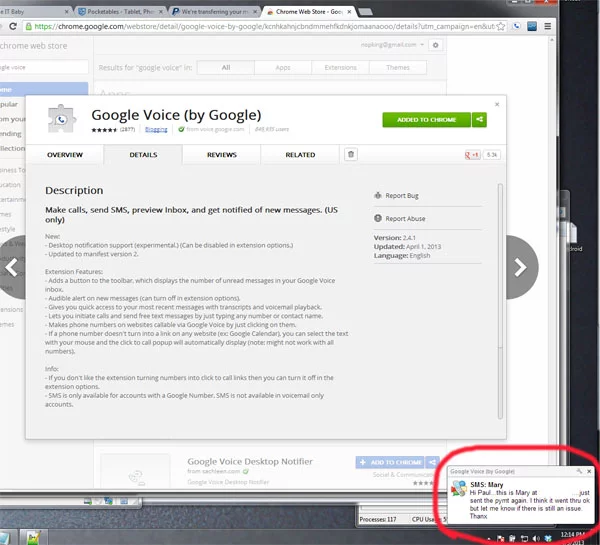 While everyone was looking at the slew of jokes Google released for April Fool's day, the search giant quietly released a new version of its Google Voice extension for Chrome, taking it up to version 2.4.1.
The new version installs automatically on most Chrome browsers when the browser is freshly launched, so if you haven't closed and reopened Chrome, you might not be seeing it at the moment.
Google Voice 2.4.1 – What's new?
The new version adds desktop notification support, which basically pops up a window in the bottom right of your screen when you receive a message. It also updated to manifest version 2, which probably isn't terribly important to the end user. The new version does not appear to run in the background (other Google products such as Chrome Remote Desktop do) so you'll probably need to have Chrome running to see incoming SMS notifications.
Google Voice seems to function slightly faster that it used to on my setup. I'm not sure if that's because I'm looking at it, trying to find something neat, or what the deal is.
The one bug I've seen so far is that I received multiple text messages and the counter was still showing one received on the extension. Clicking on the thing showed three new messages. However, that could have to do with my phone picking up some of the messages. Whatever the deal is, if you see a popup in the bottom right of your desktop that looks like a text message, it most likely is.
If you don't care for Google Voice's desktop-space-infringement, you can turn off that option in extension management.
Google Voice does SMS great, but continues to forget MMS.
The new version also does not add the long-awaited MMS options, nor give any hints as to whether Google Voice will ever support what everyone wants it to support.
Download: Chrome Web Store