Review: RHA MA450i earphones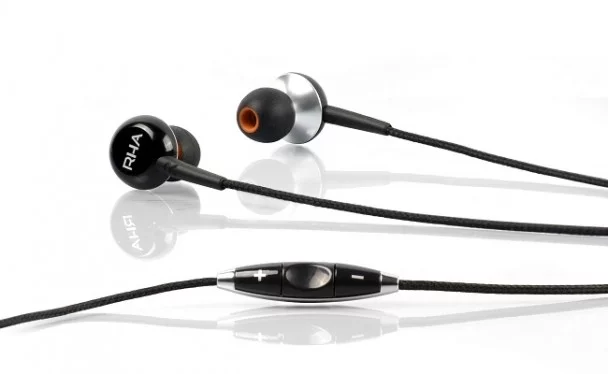 Our friends at RHA recently sent me a pair of MA450i noise isolating aluminum earphones. Featuring a dynamic speaker for high definition sound with full bass, a fabric braided cable for reduced tangling and prolonged cable life, and a remote and microphone that works with most modern smartphones, it's clear that the company has put some thought into the design, with usability in mind. But first, let's look at the specs.
The RHA MA450i headphones have a 10mm driver, a frequency range of 16Hz-22,000Hz, 16ohms impedance, 103dB sensitivity, and a maximum power of 3/10mW. However, since I'm not an audiophile, most of those numbers mean absolutely nothing to me. So here are my impressions after quite a few hours of just using these things in my everyday life.
First, at this price point, these earphones sound great. They might be one step below the Jabra earbuds I also recently received, but they cost half as much – and honestly, I really can't tell that much difference between them. The RHA earphones deliver rich sound, with deep bass, and crisp high notes. To my untrained ears, they sound excellent no matter what I am listening to – classical, rock, and pop music. I also listen to a lot of podcasts, which all sound great on these headphones.
They're able to block out much of the sound in the environment around me, which is good – I can concentrate on what I'm listening to, not the distractions that surround me. Like most other earbuds, it's the physical design that blocks out noise, rather than some complex software solution. That's fine, though, because they cancel out noise as well as or better than all other earbuds I've used in the past.
The fabric braided cable is also something that's unique to these earbuds, and makes them a thousand times more valuable to me than other higher-priced earbuds. It doesn't actually feel like an earphone cable at all, but rather a very thin shoelace, or something similar. What this means for practical everyday use is that the cable really doesn't get tangled up very much, and when it does, it's extremely quick and easy to untangle. Additionally, it doesn't remain curled after being in my pocket for a bit – it straightens up almost immediately. In fact, this cable is so nice that I'm surprised it's not more common on most other earbuds. It's really that good.
I've noticed that when I plug this set into my HTC EVO 4G LTE, which has a built-in FM tuner, these earphones are able to pick up weaker stations much more clearly than I'm used to. I'm not sure if it's because of the fabric design, but FM reception is superb.
I appreciate all the detail that went into this product, as well. The headphones come with a drawstring pouch for storage when you're not using them, although it's a massive dust magnet, as you can see below.
There are also seven pairs of interchangeable tips that pretty much guarantee a good fit for everyone, no matter their ear shape. This is appreciated not only for the versatility, but because I have a bad habit of losing earbud tips, so I won't have to worry about finding replacements for a very, very long time. In fact, the tips that came preinstalled have worked out just fine for me; they fit snug and still feel comfortable after an hour or so of use.
The built-in microphone turns these into a fully-functioning headset, too. Phone calls seemed on par with anything else I've tried, and the microphone seems to pick up my voice just fine. It's hard to tell whether or not the Sprint network had any effect on my microphone tests, negative or otherwise.
iPhone, iPod, and iPad users will appreciate the built in controls that allow you to play, pause, and skip, or turn the volume up and down. It's worth noting that this functionality was limited on my EVO: I was only able to play or pause what I was listening to, but honestly, that's enough for me.
Finally, these also come with a three year warranty, so it's obvious the manufacturer believes in these things. The build quality seems great for the price point, and I doubt I would even need to use that warranty in the third year. As you can tell, I'm pretty impressed by these, and – especially at this price point – give them two hearty thumbs up!
The RHA MA450i earphones are currently sold directly through the Apple Store online for $49.95, but if you ever find them on sale, buy them immediately without even thinking about it.