DriveDroid turns any rooted Android phone into a USB drive with live boot capabilities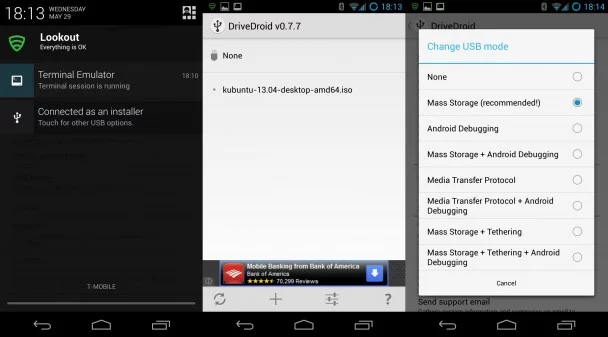 As I found out when trying to get my LG Nexus 4 to work with Kubuntu Linux, the MTP and camera transfer modes provided on the Nexus 4 don't work incredibly well when trying to use the Nexus 4 as a  standard mass storage device on Linux. There is a complicated desktop-side modification that I covered in the previously linked article, but it turns out that for rooted users there is a much simpler way to use a rooted Nexus 4 (or any other Nexus device without MSC mode) as a standard USB drive on not only Linux, but also Windows and OSX.
The simple method is an app called DriveDroid, which is free with ads on the Google Play Store. The app allows you to mount image files from your device to your computer as independent devices in MSC or mass storage mode, which makes standard file transfers much easier. However, this doesn't do any good for actually transferring files to the Nexus 4. Because of the way DriveDroid works, it actually creates a virtual .img drive file of any size on the Nexus 4, which can be mounted to a computer and treated as a regular flash drive. This means that the Nexus 4 can't actually access the files on the virtual drive, but the drive can easily be used to transfer files between two desktop computers.
This, obviously, means that DriveDroid is not at all useful for putting files on the Nexus 4, and that Linux users will still have to use the tweak mentioned above to transfer media that needs to be accessed from the device. What DriveDroid is especially useful for, though, is its ability to also appear as a live image of a Linux ISO.
For those who aren't familiar with live Linux distros, they are described here in the context of live CDs. DriveDroid works exactly the same way as a live CD would, and allows you to boot into a Linux enviornment on a connected desktop to install or use as you choose. This live USB ability is DriveDroid's primary purpose, and the app even includes a utility to make downloading and booting live Linux .iso images easy.
A live Linux drive on the Nexus 4 may not be every user's dream, but as someone who uses Linux live USB sticks quite a bit, and often is in situations where a live Linux image would be useful, this is quite an impressive application. It perfectly emulates a live USB drive, and allows me to carry multiple Linux distributions on one device. (Which, of course, will quickly use up my Nexus 4's 16GB of storage space.) So, while DriveDroid will be most useful to a niche market, the app is quite simple, and works extremely well. With the paid version costing only $1.28, I can highly recommend it as an alternative to carrying around a stack of USB flash drives.

Download: Google Play