Google announces the $35 Chromecast dongle for your TV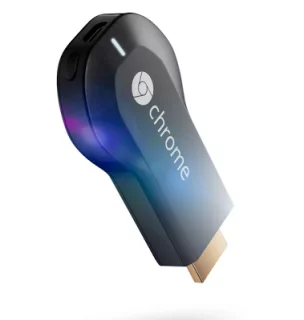 In addition to Android 4.3 and a new Nexus 7 tablet (story coming soon), Google also announced Chromecast earlier this morning. This is a $35 dongle that connects to your HD TV and allows you to use your phone, tablet, or laptop to "cast" online content to the bigger screen.
Currently, it works with apps like Netflix, YouTube, Google Play Movies & TV, and Google Play Music, with support for more apps like Pandora promised in the near future. It is remote-free, which means you'll control it exclusively from your phone, tablet, or computer running Google Chrome – this also means it's device-agnostic, since it will work with any device and OS that is capable of running Chrome, including Android, iOS, Linux, OS X, and Windows. As of now, the Chromebook Pixel is the only Chrome OS device that is officially supported, although Google is working on support for more Chromebooks, too.
One differentiating factor between Chromecast and other dongles is that content generally isn't mirrored. Instead, Chromecast runs a stripped down version of Chrome OS, and will directly stream Netflix, YouTube, Google Play Music, or other media depending on the commands you sent to it using your phone, tablet, or computer. Google is, however, working on a beta feature that will mirror Chrome browser tabs from the desktop to the Chromecast – this will allow users to use Chromecast to view anything that they can on their desktop browser, even if no apps officially support it.
A great bonus for early adopters is three months of free Netflix. When you consider that this costs almost $24, the total cost of the Chromecast is only $11.
It's available for order now from Google Play, Amazon, and Best Buy, although availability and shipping times keeps changing (this indicates that it's selling quite well). I've got one on order through Amazon, so you can expect a full unboxing and hands on review as soon as it arrives.
[
Google
]