LG G2 image reveals removable battery, possible Nexus 5 feature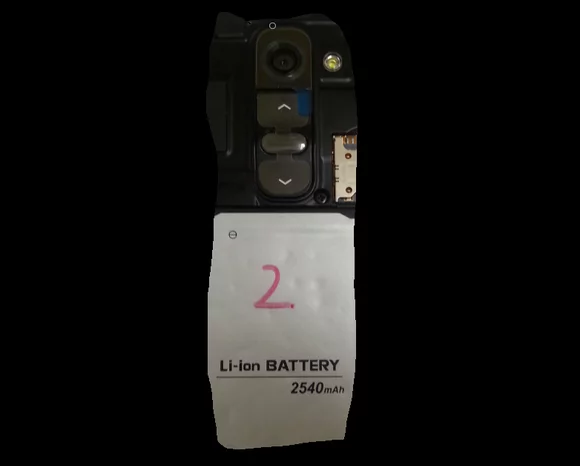 Just last week, we established that the LG G2 would probably be the base for the next Google Nexus device, or the Nexus 5. The LG G2 has already been revealed in a series of images and a video, which gives us a pretty good idea of what the G2 and even the Nexus 5 may feature. Now, another image has surfaced, showing both an odd design decision and a feature that many should be happy about.
First off, take note of the oddly positioned buttons underneath the camera. As suggested in the previous rumors, these clearly appear to be the volume buttons, oddly mounted on the back of the device. I can't tell if this is actually two buttons or a sort of up and down switch with arrows on a sticker, but either way placing the volume controls on the back of the device is a very strange choice.
More interesting than the volume button placement is the battery in the device, which is a 2,540mAh cell and appears to be removable. Because of the odd crop of the image, it isn't possible to tell for sure, but what could be a minus sign in the top left corner seems to indicate that the battery could be removable. Even if not, 2,540mAh should be a good amount of power for the LG G2.
Of course, this image only technically applies to the LG G2, but I think it quite likely that LG will get a second shot at making a Nexus device, just as HTC and Samsung did in the past. If this is the case, could we expect to see oddly placed volume buttons and a removable battery in the Nexus 5? Perhaps, and while the different volume switch could deter some users. a removable battery would simply add to the appeal of what is hopefully going to be a 2.3GHz 1080 x 1920 5.2-inch behemoth of a smartphone flagship for LG and Google.
[
Phone Arena
]