I personally think 2013 was the year of the budget phone. A number of manufacturers, including Motorola and Nokia, broke into the budget handset market to try to gain market share for their respective platforms last year, resulting in a boon for that particular market.
One of the most notable attempts was made by Nokia with the Lumia 520. With specs that compete with the flagship Lumia 900 from 2012 for just $59 off-contract, it's a serious contender for a lot of people looking to stretch their money as far as possible.
But that $59 price point isn't easily achieved. Nokia had to cut a significant number of features out of the Lumia 520 in order to sell it for such a low price. And that brought about the biggest question I had when I bought my own Lumia 520: is the phone still usable, despite its glaring lack of many of the features I use on my Samsung Galaxy Note 3 on a daily basis?
The answer, naturally, is below.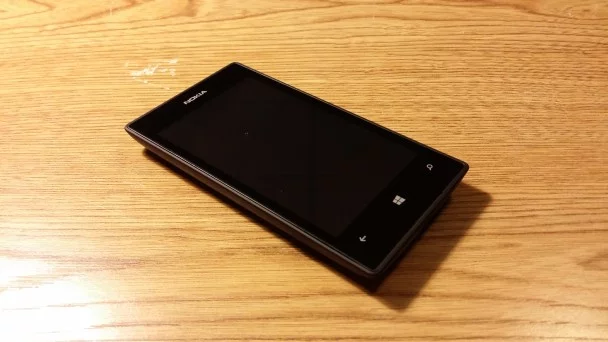 Quick Specs
The Lumia 520 is a budget phone, and its most of its specs reflect that. Inside is a dual-core 1GHz Qualcomm processor, 512MB of RAM, and 8GB of storage (expandable via microSD card). The 5MP rear camera is the only one on the device – and it doesn't include an LED flash. There is a dedicated two-stage camera button, though.
However, the 4-inch IPS panel has a resolution of 800 x 480. It sounds low at first, but that resolution brings the device's PPI to 233. That isn't as high a PPI as something like the Samsung Galaxy Note 3 or an iPhone's Retina Display, but Windows Phone's text and pictures still render sharply. Colors are fairly bright, as well; I was surprised to see such a good display on a phone that cost me only $59.
Packaging
I did an unboxing and first-look post when I got this device a few months ago, but I'll go over it quickly again. Microsoft sells the AT&T GoPhone version of the phone, which means the device is packaged in the bland, orange plastic container that all GoPhones share. Very little money was spent on the packaging – but then again, it is a budget phone.
Hardware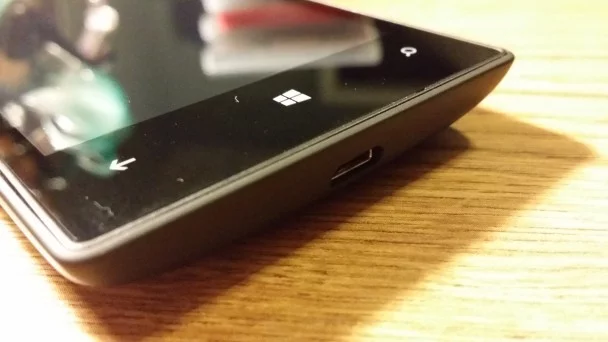 The bottom of the Lumia 520 houses Windows Phone's three capacitive buttons: back, home, and search. Surprisingly, the buttons are very responsive, and I never ran into any issues dealing with button registration.
The lower portion of the device is also home to the microUSB connector. It's a relatively clean bottom, and it looks pretty sharp to boot. The rounded corners on the back lend a certain comfort while holding the device, adding to the "premium" feel that Nokia's design department tried to achieve.
The right side of the device is where Nokia put all the device's buttons. There's a volume rocker and a power switch and, unlike many budget devices, a dedicated two-stage camera button. All of the device's buttons provide great tactile feedback, too – a lot of design considerations went into building this phone.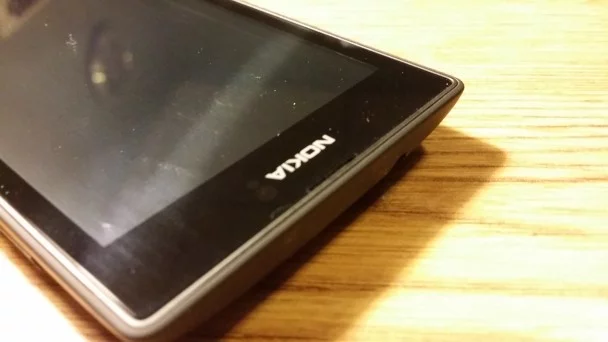 The device's 3.5mm headphone jack is on the top. Just above the Nokia logo is the device's loud and crisp earpiece, which blends into the front panel of glass and isn't noticeable.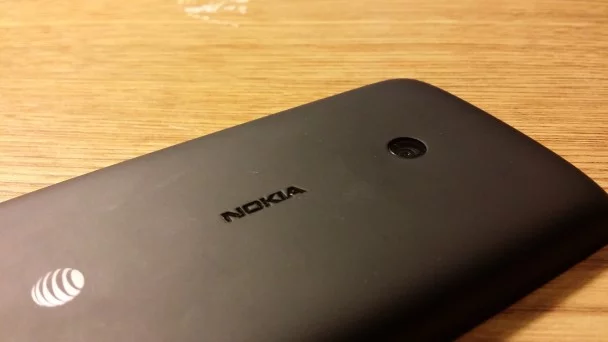 Since there's nothing on the left side of the device, we'll move directly to the back, which is occupied by a speaker grille and the lonely, flashless 5MP camera. The battery cover is made out of a soft-touch plastic material that is very similar in feel to the Nexus 7. It's a stark contrast to the front of the device, which attracts grease and fingerprints like there's no tomorrow – but at least the back will save your fingers from touching even more of it.
Screen
I'll start this section off with the bad news: there is no oleophobic coating on the Lumia 520's screen, so fingerprints and grease make themselves very apparent in a short amount of time. Long periods of touching the screen without wiping it off will result in a very disgusting layer of fingerprints and grease – and it feels downright awful.
That said, the Lumia 520's screen is actually quite fantastic. Windows Phone 8 does a good job of rendering text and icons to look crisp on any pixel density, so the fact that this phone has a PPI of just 233 isn't noticeable. Adding to its crisp text is beautiful, bright colors; the screen on this device is simply gorgeous.
It's also quite a responsive panel, too: taps always registered, and I never had an issue when scrolling through pages or pinching to zoom on pictures in Windows Phone's gallery app.
Software
The Lumia 520 runs the latest version of Microsoft Windows Phone 8. It's a standard Windows Phone affair: tiles, flat design, and speedy coding allow for one of the most enjoyable user experiences on mobile today. Nokia does have a little bit of power over the preinstalled apps, though, and the manufacturer's HERE suite and Nokia Music apps come with the device. AT&T also had a bit to say in terms of included applications, and its suite of carrier apps are installed, as well.
As good as Windows Phone is, though, an operating system is nothing without its apps. Windows Phone lacks a few apps from Android and iOS' app stores, but Microsoft is doing a good job with luring devs to its platform. In fact, just a couple months ago, the Windows Phone Store surpassed 200,00 apps. If there isn't an official app for a service or product that you want to use, there is very likely a third-party one that works just as well.
If you've used Windows Phone before, you know how the operating system works. Navigation is simple, easy, and concise; and completing tasks is incredibly efficient. Windows Phone's implementation of multitasking isn't as robust as iOS' or Android's, unfortunately: some apps have to resume (which takes a while), and others will break what they're doing when you switch from them. It's time-consuming, but at least Windows Phone's multitasking allows for quick app-switching.
Performance
Even with the relatively low-end hardware inside the Lumia 520, Windows Phone and all of its apps run splendidly.
There's a reason for that, of course: Microsoft carefully selects the hardware that manufacturing partners are allowed to use in their devices. This process ensures that all devices are able to run Windows Phone and its apps without any hiccups, which leads to happy users – and hopefully return customers.
Web pages load quickly, games play without losing any frames, and every other task on the phone is completed in a reasonable amount of time. YouTube videos, since they are in the browser due to the lack of a native Windows Phone YouTube app, stuttered a bit upon typing into the address bar or going back to the homescreen, but that was the only noticeable lag that I found on the Lumia 520. Every other task was accomplished with ease.
Phone Calls
Nokia has a reputation for producing handsets with superb voice calling capabilities. Thankfully, the Lumia 520 continues with that trend and delivers stellar call quality. Crystal clear voices were produced from the handset's earpiece during phone calls – something I've come to expect from Nokia.
Connectivity
The Lumia 520 is an AT&T GoPhone and, as such, runs on AT&T's 3G/HSPA+ network. Since it's a budget phone, there is no LTE radio inside – it's limited to just HSPA+ for data. Thankfully, it connected to AT&T's network just fine, and phone quality and HSPA+ data speeds were more than adequate. Still, LTE would've been nice: HSPA+ is a fair amount slower, and people who are used to LTE (like myself) will definitely notice a difference.
Perhaps more unfortunate than the lack of an LTE radio is the fact that the device is carrier-locked. I tried swapping the SIM from my Galaxy Note 3 to the Lumia 520 with no luck: the device was quick to inform me that it was locked to AT&T's network and would need to be unlocked by calling a number.
It makes sense that it's locked – it's a GoPhone that AT&T sells at a very low profit-margin to get users to pay for monthly service. And even if it were unlocked, it's still based on AT&T's network; it would run on T-Mobile or some other GSM carrier, but you'd only get EDGE speeds. But there's still a certain disappointment to be had when the off-contract device you bought with your money can't be used in the way you want.
Camera
Perhaps the most disappointing feature of the Lumia 520 is its 5MP shooter. Without a flash, it is useless in the dark; and even when there is adequate lighting, the small sensor struggles to produce quality images. The camera will still be able to produce acceptable photos in well-lit situations (and the shutter speed is surprisingly quick), but don't expect it to replace your dedicated digital camera.
The pictures in the gallery above show the camera performing in a few different situations. The pictures of the figure are in various lighting conditions to show off how the camera performs in low-light scenarios.
Battery Life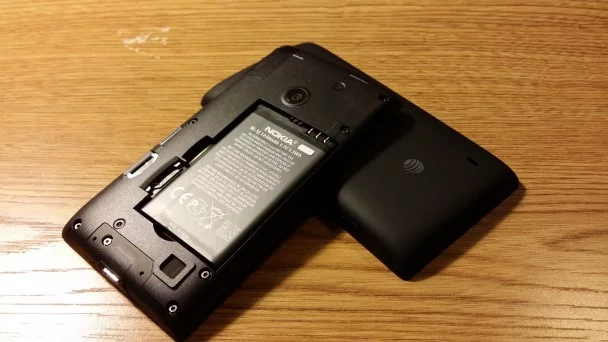 The Lumia 520's 1420mAh battery provides stellar battery life. After a whole day of watching videos, streaming music, and texting and emailing heavily, I was left with 20% of the battery left. Brightness was up to 75% and Bluetooth, Wifi, and cellular connectivity were all turned on. Your mileage will vary, of course, but I was personally very impressed.
Conclusion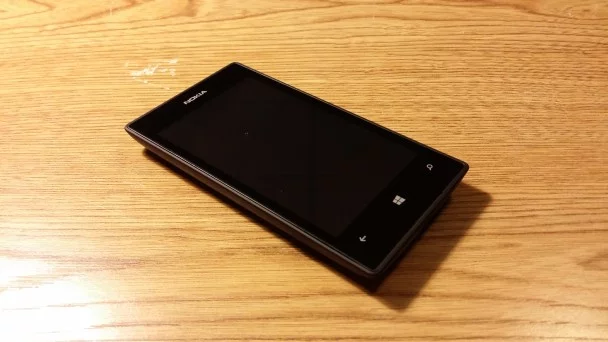 The Lumia 520 is very obviously a budget smartphone: a subpar camera, no LTE, and boring specs round out the device. There's a reason it costs only $59 off-contract, and it's because of what's missing – not what's there. At the same time, it runs Windows Phone and all of its apps very well. Phone calls are spectacularly clear, too, and everything else that you'd need to use a smartphone for can be completed in a timely manner. Photography is not its strong suit, of course, and the lack of LTE is a omission that could be a dealbreaker depending on your needs.
Overall, the Lumia 520 is a standard smartphone at a substandard price. If you're in the market for a new smartphone and you don't want to break the bank, the Lumia 520 is definitely worth a look – so long as you don't mind its few drawbacks.
You can buy a Nokia Lumia 520 from the Microsoft Store for $59 off-contract.