Why I chose the Google Nexus 5 for my smartphone, even though Samsung and HTC just released new flagships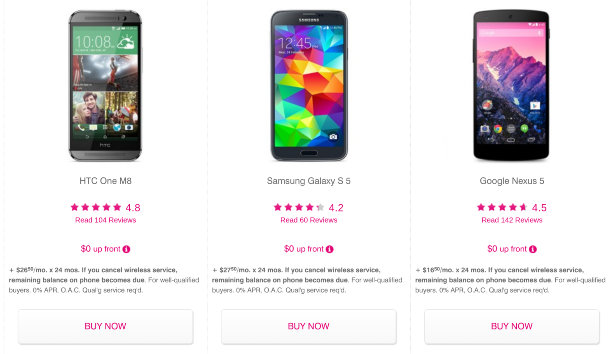 As you may know, last weekend I was suddenly and unexpectedly pushed into the market for a new smartphone. I was forced into making a decision fairly quickly about which phone I should get – should I opt for the same device I was using before, the Google Nexus 5 by LG? Or should I look at the new flagships by Samsung and HTC, the Samsung Galaxy S5 or the HTC One M8?
In the end, I decided on the Nexus 5, even though it's a phone from last year. Ultimately, it boiled down to four points.
Stock Android
Having been a devoted HTC fan from the OG EVO 4G in 2010 through the EVO 4G LTE in 2012 (which I kept well into 2013), I've decided that enough is enough. While OEM skins oftentimes do add valuable features, like an FM radio or eye tracking, they always end up being slow, laggy, or – even worse – full of bugs.
I can't tell you how many times I accepted an OTA update on one of my HTC EVO devices, only to have Google Maps force close afterwards, Netflix stop streaming, or Pandora to automatically force itself to the lowest quality stream available. Not to mention all of HTC's bootloader shenanigans, that caused more headaches and more lost hours trying to fix than I care to admit.
For me, stock Android is the way to go.
Sure, I could have gotten a Google Play edition device if I wanted stock Android, but the GPE Galaxy S4 is older than the Nexus, there is no GPE Galaxy S5 (yet), the GPE Sony Z Ultra is too big for me, the GPE Moto G is too underpowered, and the GPE HTC One M8 is currently out of inventory – and a hell of a lot more expensive than the Nexus 5.
Fast updates
Along with stock Android comes fast updates (usually). Google is generally very good at making sure all of its current Nexus and Google Play Edition devices are updated to the latest version of Android within a week of each other.
HTC has admittedly gotten better about updates, and is being more transparent, too. However, with HTC's poor track record and tendency to push back its self-imposed deadlines, or pull updates altogether, I don't want to jump back into HTC's ballgame quite yet. I'd rather wait and see how things go this year, and also see if HTC has solved some of the complaints about HTC Sense that I raised above.
Samsung is even less transparent than HTC. It makes no promises about updates, doesn't really openly communicate with its customers who ask about them, and generally takes a very long time when it actually does decide to update a device.
Wireless charging
Neither the HTC One M8 or the Samsung Galaxy S5 support Qi wireless charging out of the box. While this may be silly to some users, the Nexus series has literally changed my life – at least in regards to how I top up my cell phone and tablet everyday. I can't explain the convenience of just setting my phone down somewhere, and picking it up a little while later with a full charge. I love it, and I won't go back.
Admittedly, the Galaxy S5 can have this feature added with an accessory – but that's not good enough for me. I shouldn't have to pay extra for this. It should just work, right out of the box.
Specs
The specs aren't really that different between the HTC One M8, the Samsung Galaxy S5, and the Google Nexus 5 by LG. The resolutions are, for the most part, the same, and the human eye won't ever be able to detect the fact that the pixels per inch are just very slightly lower on the Nexus 5. The processors are pretty much the same, too – sure, the Nexus 5's is slightly older, but not by much, and the clock speeds are fast enough that they won't ever make a discernible difference in day-to-day use. In fact, the Galaxy S5's faster processor is said to have slower performance due to TouchWiz's bloat.
I looked at other aspects, too, such as camera quality. The general consensus seems to be that everyone wishes HTC would have included more than 4MP, Samsung's camera is fast but not as detailed, and the Nexus 5 camera is slow but has the best detail in some scenarios. Of course, much of this is subjective and depends on the person operating the camera.
All-in-all, I chose to stick with the Nexus 5, even though I had an opportunity to pick something different. I think I made the right decision, but I'd be interested in knowing what you think.
Are you in the market for a new phone now? If so, in which direction are you leaning?