Official ClockworkMod Touch Recovery available for HTC One M8
The official Clockword Mod Touch Recovery is now available for the HTC One  M8.
While early on there were ports from the M7 that worked, including TWRP and the PhilZ Touch (which is based on CWM), there are now official versions of ClockworkMod Touch Recovery v6.0.4.8 available for install either via ROM Manager (the source link claims) or flashing a recovery image on your HTC One M8.
Reports seem to indicate that Aroma installers still look like a bad TV on the M8, and it doesn't seem that all the bugs are wiped out of it yet, but it will back up and restore pretty much anything running today, even if it does complain about it sometimes.
I'd expect that the bugs will be stomped shortly, but for die-hard fans of ClockworkMod Touch Recovery you're probably safe to dive right in without fear of the recovery exploding your phone or anything.
Standard warnings apply – have a backup recovery from another source on the off chance this does not work with your particular One M8, carrier's config, etc. Don't trust that your data is safe without verifying it at least once with something like Nandroid Browser or Titanium Backup. Also plan to update it fairly soon, as I'm sure they'll be getting the last of the bugs squashed shortly.
ClockworkMod Touch Recovery reportedly brings the addition of gesture controls.
You can install via ROM Manager according to the post, or grab an image file of the recovery at the link below. In ROM manager I'm not seeing an option for the HTC One M8 as a supported device, so perhaps it's available in ROM Manager premium. You can see what I get when I attempt an update in the free version of ROM Manager from the image below.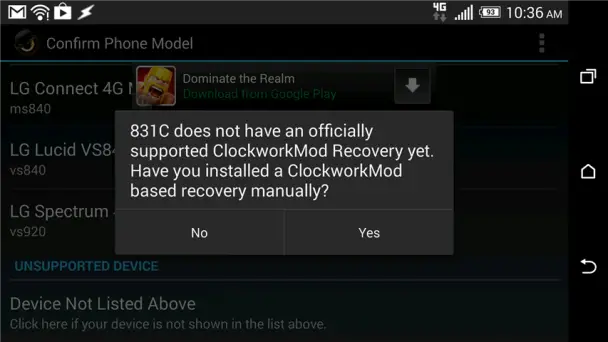 So my guess is it's either in ROM Manager Premium or the thread is incorrect. Whatever the case, you can download and flash the recovery as an image.
[
xda-developers
]