Before you accuse your new ROM of bad performance, check this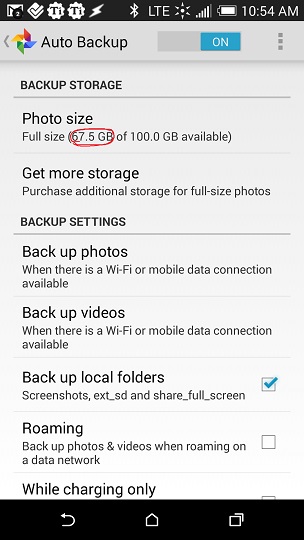 I'd been happily running the Bad Boyz Harmon/Kardon edition ROM for the HTC One M8 for about a month, which in ROM terms is about an eternity for me, and had decided to go and check out some other ROMs.
I'm not going to name the ROMs here because in the end that doesn't matter. The short of the story is that each one performed terribly. Benchmarks were in the crapper, taking photos would give me messages that my external SD card was too slow to write to, and speed tests on those ROMs would top out at one meg on my WiFi, where I generally got 30+ Mbps. Rhe battery was also draining in under eight hours.
At first I blamed the ROMs and nandroided back to my old one, which flew, and started perusing the user reported experiences of the ROMs I'd abandoned. Nobody seemed to have the issues I did. That was strange. Nobody reported that their camera app was saying their SD card was just too slow to write to either.
After that I tried another ROM and the same problems appeared – it was slow, camera was giving me grief about my SD, and the ROM's thread was filled with people posting scores well above mine and raving about the performance. What was surprising me most was, when I was connected to WiFi, the utterly abysmal performance.
Finally I put the phone away one night and resolved to live with it for a while so I could write up a ROM review. The next day the ROM was zippy, my speed tests were indicating I was getting 30+ Mbps on WiFi, and of course Sprint still sucked so that didn't change. The benchmarks and battery life were right where I expected them to be.
I was reminded of the "let it settle in for a day or two," kernel claims which have been debunked time and again, but it did get me to wondering if there might be some truth to this.
It wasn't until I checked my Google+ profile that I realized that the new ROM installs of Google+ had been busy pushing 30GB of videos I carry around for downtimes to the cloud. Google+ also had consumed 70% of the battery according to the battery stats when I checked it.
The SD write speed issue had most likely been due to Google+ scanning the entire SD card as that disappeared when the sync had finished.
I went from using ~18GB of storage to 67.5GB over the course of a couple of nights, which explains why the internet speed tests were so abysmally slow (pushing 40GB of data out clogged the tubes).
The end result – check that you're not using massive amounts of data in the background to sync before you start thinking your ROM is terrible… in this case, either fix the sync issue by telling Google+ it can't have access to folders it doesn't need, or let it settle for a couple of days.