ROM picks: Bad Boyz Sprint One M8 with Harman Kardon audio
If you've been looking for a stockish Sense 6 ROM for your Sprint HTC One M8, in order to try out the Harman Kardon audio features, Team Bad Boyz has a really brilliant offering that offers some new features both from Sprint and from their own designs.
The big reason most audiophiles might want to play with this is the Harman Kardon ROM settings, which make streamed audio sound quite a bit better on the built-in speakers. Oddly, it reminds me of listening to a high fi tape for the first time with good earphones, but that's just me. Earphones probably sound better, but I can't really tell too well at the moment.
One of the nice things about this ROM, and please don't stone me for saying this, is that you can dirty flash it over a stock ROM and not have to jump through the setup hoops again. I'm a horrible root user for doing this, I know, but I've been too busy with tornado level winds and crazy storms the past few days to deal with setting things up again.
The only issue I noted when I did this was that the Installed Apps selection on the Mods page crashed. That's probably from the dirty flash though, so not a big deal.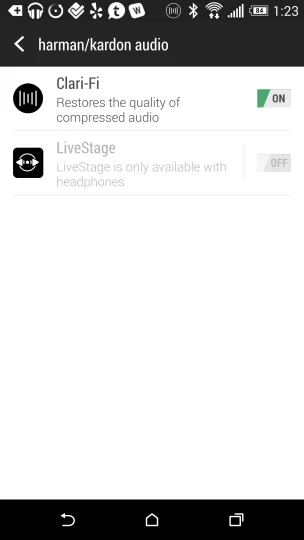 Besides the audio enhancements, there's now a Bad Boyz mods section in your settings. It allows you to check for ROM updates, share your ROM with another user, add some fixes, modify your status bar to look like other carriers, download mods such as CRT animation, SMS screen on, advanced port menus, etc. It includes TWRP themes you can install, a scripts manager, and quite a bit under the hood that make it a very nicely done ROM that came out the same day the Harman Kardon RUU was leaked and decrypted.
AppOps is also up and running with this ROM, so if you want to revoke any application's permissions, you're able to do that on the fly. You could also do this with AppOps Xposed if you were feeling like installing the Xposed framework, but it's nice to have that feature available in 4.4.2 without having to install anything else.
The only thing that has thrown me is I'm not used to the default status bar icon pack, and there are a couple that confuse me, but if I wanted to I could change those back using the mods they've included with the ROM.
If you're enjoying stock, or need to be mostly stock and want enhancements, the Bad Boyz Sprint One M8 ROM is a pretty good one to play with.
[
xda-developers
]