Google power tip: Mortgage calculator is now built in to Google Search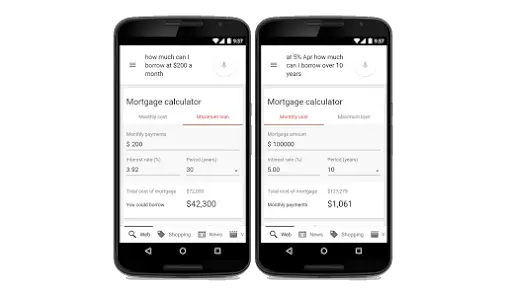 Buying a house? Need to refinance? Just trying to figure out how much house you can afford?
Google, in its never ending quest to get you to use its search engine for literally everything, has quietly rolled out a mortgage calculator. You can find it by including many mortgage-related terms in your search, or simply by searching for "mortgage calculator."
It's a rather basic tool, allowing you to enter in a mortgage amount, interest rate, and payment period in years, automatically calculating the total cost of the mortgage and the monthly payments. Alternately, Google allows you to enter the maximum monthly payment that you want to shell out, the interest rate you expect to get, and the mortgage period you desire, and it will tell you exactly how much you can borrow.
This tool isn't quite as advanced as some others, but it's quite handy for what it does.
[
Google+
]