Marsboy Portable Orb Bluetooth Speaker review
The Marsboy Portable Orb  Series Bluetooth 4.1 speaker is most of what you'd expect in a speaker and a bit more that's kind of useful. Besides being your standard stereo bluetooth 4.1 speaker with a lightshow and speakerphone built in, it also has the ability to play music in a couple of ways without a smart device attached.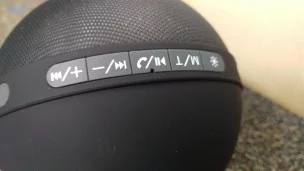 The first way is the old line-in standard in which you save a bit of Bluetooth juice, but still have to have another device attached in order to play anything, and the second way involves the SD card reader built into the system.
The SD card can contain MP3s, WMAs, WAVs, APE, or FLAC format audio files so you don't need to tie your phone to the speaker to bring the tunes.
One of the claims on the Amazon page I didn't get a chance to test was that in the off mode you can use the Marsboy Portable Orb Speaker as a card reader. You turn the speaker off, insert a card, and then attach a USB to a computer. Useful idea if you're dealing a desktop and don't want yet another adapter cluttering up your desk.
The speaker has a five watt output, and is a reasonably hefty device. It's pretty loud for the size. I think it competes with the HMDX Jam series for most juice packed into a small unit, but unlike the Jam it's not as easily portable, which is why the box doubles as a carrying case I guess.
It packs a 3000mAh battery and claims a 12-hour playtime which is good, but unfortunately it only charges at one amp, which means 3.5 hour or so charge times, which is kind of annoying.
It features a kind of neat lightshow… you'll have to decide if it's interesting to you. I think it would be rather nice playing music outside at night, but it would become sort of Spencer Gifts cheesy were you to try and incorporate it in a dorm room. You can turn it off at any time simply by holding the selector button.
It claims 49.5 foot Bluetooth range. That of course varies based on your phone's Bluetooth antenna and whether you're attempting to use it in a 1940's house that's built like a faraday cage. It works far enough that you're not going to have problems most likely.
The speaker stretches the definition of what I consider a portable speaker as it's about the size of a three year old's head and there are no carbuys or carrying apparati integrated into it. If you're carrying it around you'll feel like you've got a kid's bowling ball in your hand, or are carrying a lunch pail, or have a hunchback if you've got it stuffed into a backpack.
Overall, I have nothing against this speaker other than it's priced slightly higher than I'd want. So here's a coupon code for $8 off on Amazon US and £7 off at Amazon UK – TAKYZ9OF
If that code doesn't work for you, let me know.
What I'd like to have seen in this speaker to make it perfect were faster charge times, a consistent voice across the functions (there are at least two voices telling you what's happening on the thing,) and a carrying handle or method. Would have been nice to see the ability to charge your phone off of it, but perhaps that's overplayed these days.
The Marsboy Portable Orb Bluetooth Speaker is available on Amazon (us) for $49.99 and Amazon (UK) for £38.99