My experience cancelling Comcast/XFinity X1 system (and getting business class installed)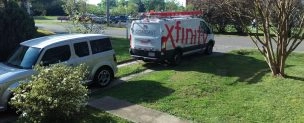 I have a unique situation here being that I now have a Comcast business connection at home provided by work, and I'm ditching the X1 system as coming in at over $200 a month (plus overages,) it hasn't been anything except a financial drain that I can't afford with two kiddos.
Top part is a boring story of my cancelling (and the half price offers I skipped,) the bottom is what happened getting the business class installed a week before (and all the time they wasted.)
oh, if you're expecting to read a transcript of me being berated by someone or something particularly newsworthy, this isn't it. Boring read on what to expect on both installs and cancellations. Well, boring so far, I'll update it when they mess something up.
We only watched a couple of channels live, so I switched over to DirecTV as they had them, it was $50, and all the services I used were available with them on the lowest tier package (except Sprout… we'll miss you Chica Show).
After I was sure that DTV was working and armed with my old Comcast account number and my business account number I made the call.
I told the person I was cancelling my account and requested that the two email addresses associated with it be transferred over to the business class account. If I lose these addresses, it's not particularly a big whoop, just some changes to some accounts have to be made tonight.
Oddly other than my address she had been unable to pull up my account by the time this exchange had ended. Computer were running very slow.
She offered a 50% reduction in my bill if I'd stay. No, way too late on that. She asked whether I knew that my phone number was going to be disconnected, I told her that the only people who called it were looking for the previous owner. She asked if that was since 1999 when I started as an @home (then Comcast, then XFinity,) disgruntled customer. I told her no, just since X1 was introduced and I had to bundle it for the discount.
She informed me that business class was going to have to handle the email transfer, so we set my disconnect of service date for tomorrow.
She asked how many minutes a month I was using on it, I told her 0. Then she launched into how I could install something and use any of my devices with that phone line. OK, no… just cancel. All my devices can make calls anywhere, any time, for free.
The account still had not completely pulled up, she mentioned she was not delaying, that this indeed was a slow computer day. I think I got another offer of TV only service for less, but I kind of was wondering how long it could possibly take to pull up a record.
Several minutes in my account is finally pulled up, I've been thinking it's been pulled up for a while since she knew my initial date was 1999. I verify the home customer number and the products that I am expected to take back to the store.
She asks if I was happy with my X1 service, and really I wasn't. Not being petty, but sometimes to change between channels was a 10 second endeavor. I'd get stuck in fast forward and shoot through the entire episode before I could regain control a minute or so later. I'd be unable to watch DVRed recordings occasionally. Picture quality was meh to bad. Trying to add a channel ended up with my service down for a day and escalations being involved.
Trying to get one channel fixed (artifacting, bad signal quality, very obvious signal failure,) involved an hour of customer service rebooting my device over and over and over and then telling me if the tech showed and there was no line issues I was going to be charged. Yeah, considering the two hour windows are regularly broken and the issue only came up at certain times of day that meant I was going to get charged.
I'm told I could go to UPS and they'll box everything for me, but I'm going to drive the extra half mile and go to the XFinity store and get a receipt in person because I'm extra paranoid. Nothing has ever gone smooth with me and Comcast, and I don't want to be dealing with UPS employees who may or may not have the ability to say that is all the equipment that's required to close my account in good standing.
I believe there was one more attempt at keeping me as a customer, but it was half hearted scripted. I was told there was going to be an email sent to me verifying everything to be turned in and that I actually wanted to cancel the service.
Two hours later no email.
I got transferred over to the business side as they were going to handle the email transfer. Person A got my information and passed it off to person B who once again got my info and is going to pass it off to group C who will do the actual transfer of email accounts from home to business side.
On installing business class
As I was dealing with over 300 gigs of data a month and will be for the foreseeable future and I was paying $200 a month for internet and approximately 10 hours of TV, it was time to ditch the XFinity X1 platform.
Now previously I'd been a business class customer, I switched over the the X1 platform quite honestly because I thought it might be fun to play with and perhaps write about. The install was a nightmare, escalations were involved, and months after I had it installed it was working. Somewhat. Anyway, it wasn't particularly anything I wanted to keep.
As we're offloading a lot of backup data, it was time to go back to business class, even though it breaks my heart to not jump on the fiber train.
I call up, talk to the business class rep I have, he makes the order entry and gets my info to the pre-inspection verification person. This person calls and sets up a time for the wiring team to come out and make a site survey.
I inform him there no need as this was already wired for Comcast Business two and a half years ago and currently is getting a very strong signal. Nope, not going to have it. They're sending a wiring tech and I get to block out three hours to deal with them.
Wiring tech shows up near the end of the window, sits in my front yard on a call for about 20 minutes, and then comes in. He asks what he's doing, I tell him he's looking at a cable that was already wired two years ago. He asks if it works. I say yes. This is the end of the survey. No testing, he leaves.
There went 2.5 hours.
Hopefully the installer will be better….
The installer shows on Monday about 10 minutes into the window. Great. I've got things to do and a sick baby I'm taking care of. He comes in, looks at the wire, looks at the plug. Says great, and then goes out to his truck.
I see him texting about ten minutes into this, but don't think much of it. Twenty minutes in and I wander out and ask if he needs a coke or anything. He says no. He's just shown up without any cable modems. He now must wait for another installer to get done with his job and then drive over and deliver a cable modem.
As he's sitting out there another XFinity van shows up (+50 minutes if I'm not mistaken,) and the Google Fiber survey team is just poking around my street. I wonder why he didn't drive to that installer's location and pick the modem up and come back.
We finish up what should have been a 20 minute install somewhere around the 1.5 hour mark.
Half a day wasted because they couldn't hand a modem over to a former business class customer who's more than capable of screwing in a coax cable at a residence that already has the cable modem service.
Overall
Nobody was mean, just they're just being Comcast and wasting time.