Kyocera DuraForce PRO Review – It's Tough at the Top
Kyocera isn't the first company that comes to my mind when I think of smartphone manufacturers but they've been in the game for a long time. They've found quite a niche in the durable phone segment. Their latest phone for the doers among us is the Kyocera DuraForce PRO – a beefy phone that can stand up to most anything you can throw at it. It's designed with outdoor workers and outdoor players in mind with its waterproofing and durability features. And unlike many past phones designed for this segment it is actually a quite usable mid-range phone.
DESIGN
The DuraForce PRO isn't a bad looking phone. Many of the ruggedized phones I've used in the past have been oddly shaped (hexagonal, really?) and ugly. The DuraForce PRO is neither. It is plasticky and rubbery which helps it survive drops, kicks, and dunks.The front of the device is pleasing to look at and functional. There's a lip around the screen to help prevent it from shattering when dropped face-down onto a hard surface.
The front of the device is pleasing to look at and functional. There's a lip around the screen to help prevent it from shattering when dropped face-down onto a hard surface. Below the screen are actual buttons for back, home, and multitasking (and they are in the standard Google order, too). The screen itself is a 5 inch IPS LCD at 1920×1800 resolution. It looks quite sharp at 440 ppi. The screen is covered with "impact-resistant" glass (the Verizon version is sapphire). The left side of the phone has a programmable button that can
The buttons on the face and sides are easy to push and have just the right amount of resistance. They're easily distinguishable and are satisfactory. The power button doubles as a fingerprint reader. It is located on the side of the phone and is probably one of the weak points of the phone. It doesn't read my finger about 30% of the time. I think this is down to the side mounting and my unfamiliarity of using a fingerprint reader with my thumb. I thought I'd get better at using it but I haven't. Adding your finger multiple times will help but not solve this problem.
The back of the phone is removable, providing access to the SIM and microSD slots. The phone supports up to 256GB cards. To me, the phone feels very much like its wrapped in an Otterbox case that just happens to be integrated into its design. The effect and feel are quite pleasing. You give up some (OK, a lot) of the thinness of devices like the Moto Z and iPhone but you gain protection. And if you are someone that puts a bulky case on your phone you'll feel right at home with the DuraForce PRO. The size of the phone was my biggest concern going in but it turned out to be a non-issue.
DURABILITY
Durability is the main selling point for the DuraForce PRO, of course. In my testing and experience it's lived up to my expectations. I've tested dropping the phone on hard surfaces. The casing and screen are thus far undamaged. The plastic "case" on the phone is hard and seems to be able to take quite a bit of punishment. No phone is unbreakable, of course, but the DuraForce PRO will hold up to abuse better than your garden-variety smartphone.
I've also done some dunk testing and the DuraForce PRO waterproofing works swimmingly. Kyocera is very clear that this phone is waterproof, not water resistant. It's rated to meet the MIL-STD-810 standard and is advertised to sustain 2-meter depths for up to 30 minutes. Just make sure that you've completely closed the back cover since it is removable. There's a nice underwater mode for the camera that changes the controls from onscreen to the physical buttons. This works great and is one of the key selling points, for me.
The DuraForce PRO also has optimizations for using the touchscreen while using gloves or with wet hands. This is another nod to the doer community that might need to use this phone while wearing work gloves or in less-than-pristine environments. Kyocera has given considerable thought to features that benefit the working man.
PERFORMANCE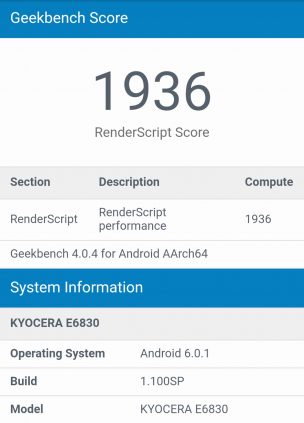 There's no doubt that the DuraForce PRO is a mid-tier phone. It's built on the Snapdragon 625 platform and has 3 GB RAM. On the plus side, mid-tier phones are getting better all the time and the DuraForce PRO is no exception. For the average user, the mid-tier is the sweet spot for price and performance. The SnapDragon 6XX series of CPUs provide an excellent performance to battery ratio. They seem to last forever.
You cannot buy a phone like this expecting to see iPhone 7 or Galaxy S8 levels of performance, but (and it's a big but) in everyday usage you will not notice any performance issues. Browsing the web, working in email, taking photos, etc. is all handled perfectly well by the DuraForce PRO. Benchmarks will place the phone somewhere near the LG G3 or Galaxy S5. I ran my typical performance testing software, including 3D games like Hitman Sniper and CSR Racing 2, and they all ran just fine on the DuraForce PRO.
SOFTWARE
Software is often an area where phone manufacturers fall down. Heavy, ugly skins and applications can certainly ruin things. I'll give Kyocera credit here. While they aren't running the stock Launcher3 launcher or Google's customized version of it the default launcher is similar enough and good enough to use every day. Replacing the launcher is one of the first things I do on a new phone but I did not do so on the DuraForce PRO.
There are some custom applications installed like a weather app, sound recorder, flashlight and a few more. In general, the apps are unobtrusive and well done. There's an Eco Mode app for controlling the radios and sleep timers and such that will allow you to squeeze extra juice out of the phone. I never had to enable Eco Mode when I was using the phone, however, because the battery life was already excellent. The notification shade pulldown is different than stock Android but it isn't ugly or annoying. It actually seems to fit in with the vibe the phone gives off.
Sprint, on the other hand, gets no pass for software. I know this isn't a Sprint review but I cannot not mention how much crapware Sprint loads on this phone. I have uninstalled or disabled 29 apps on this phone. That's ridiculous. I've been a Verizon customer for years and I've never seen a phone with that much junk on it. And I thought Verizon was bad with their Messages+ and VZ Navigation apps. Sprint should be ashamed.
CAMERA
The cameras on the DuraForce PRO are nothing to write home about. They're pretty standard for this tier of device – 13 MP rear and 5 MP front. There are a couple of notable features, however. There's an underwater option that allows you to use the buttons on the sides of the device to take pictures and manipulate the menus. It works great and is one of my favorite things about this phone. This'd be a great camera phone to take to the pool or lake.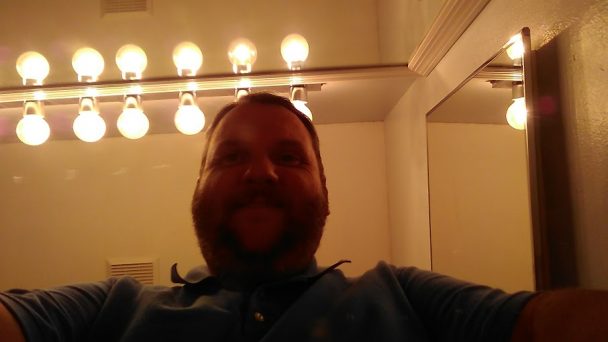 There's also a wide view mode that gives you a sort of fish-eyed view. It really works well and Kyocera touts it as an action camera. They are definitely promoting this phone for outdoor use and not just worksite use and they've built in features to address the outdoor audience.
CONCLUSION
I actually enjoyed using the DuraForce PRO much more than I thought I would. Going into the review I was a little skeptical about the performance and design of the phone but in the end both surprised me. The phone is a rough and tough rugged beast. And the price is right at $400 – $450 depending on where you buy it. It's a pretty good combination of hardware, software, and price. If you are a working stiff or just someone that enjoys outdoor activities then you should check out the DuraForce PRO.