Adata SE730H USB-C SSD review
It's been almost a full year since we last looked at an external USB SSD. But they're back this time from Adata whom we've looked at several internal drives from already.
Our Test System and Procedure
We detailed our new test system in it's own article. The new test bench has a USB type-c 10GBPS port which will be used for this evaluation. The system is running windows 10 Professional and was under no load(AV disabled) for all tests. Testing will consist our standard set of tests which we outlined previously.
SE730H Packaging and accessories
Although a fair bit larger in overall footprint than the last USB SSD we looked at the SE730H makes for an attractive drive. Rated for IP68(with the cap closed) the SE730H combines an m.2 SATA SSD with an usb 10GBPS controller. the M.2 SSD appears to be related to a product from their industrial lineup(IM2S3334) as opposed to a consumer drive. Conveniently included in the package is a small USB C to USB C cable. Although this is sufficient for newer devices a type A cable would have been appreciated as well.
| Capacity | 256GB | 512GB |
| --- | --- | --- |
| Controller | SM2258 | SM2258 |
| Firmware | Q0125A | Q0125A |
| NAND | Micron 1st Gen 384Gbit 3dTLC | Micron 1st Gen 384Gbit 3dTLC |
| Interface | USB-C 10GBPS | USB-C 10GBPS |
| Sequential Read | 500 MB/s | 500 MB/s |
| Sequential Write | 500 MB/s | 500 MB/s |
| Maximum 4k Random Read | Unlisted | Unlisted |
| Maximum 4k Random Write | Unlisted | Unlisted |
| 4k Random Read | Unlisted | Unlisted |
| 4k Random Write | Unlisted | Unlisted |
| Temperature range | Unlisted | Unlisted |
| Form Factor | Exernal | Exernal |
| Dimensions | Unlisted | Unlisted |
| Endurance | Unlisted | Unlisted |
| Warranty | 3 years | 3 years |
Unlike internal drives there's very little publicly listed data for this drive or it's industrial counterpart unfortunately. With a bit of digging we were able to confirm it's a controller and nand combination we've seen from Adata before fortunately.
SSD-z unfortuantely turns up a lot of blanks thanks on this particular drive. Fortunately for us most of the important ones(controller and nand used) we were able to piece together on our own. The utilization of USB 10GBPS allows the SATA interface to talk at it's full 6Gbps although we still expect to see losses due to the added latency of the bridge. SSD-Z also shows working TRIM for this drive. With that out of the way let's see what the SE730H can do.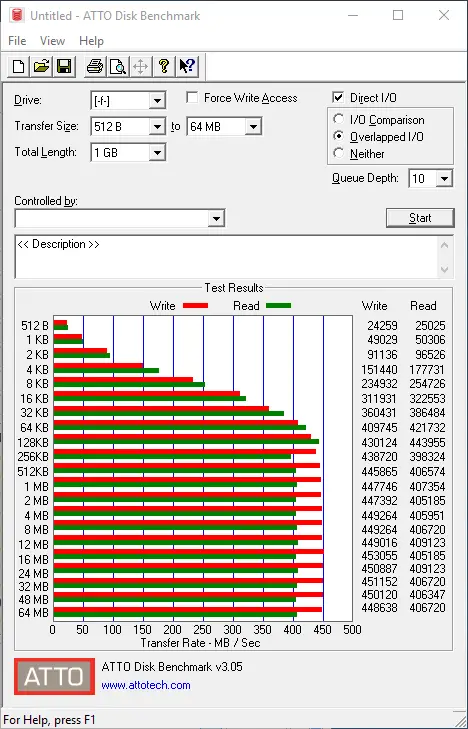 As is almost tradition for a storage device at this point we start off looking at ATTO. Something interesting is happening in this drive as we see a drop in performance once we cross a 128Kb block size for reads. ATTO isn't quite reaching the rated 500MB+ speeds we see in the specifications of this drive but it's still posting impressive numbers for a USB device.
New to this review we'll be highlighting the current test drive in the comparison benchmarks in red where possible for better readability. It takes the USB connected SE730H further into the test to reach it's peak performance compared to the Sata Reactor. Overall the performance here isn't bad carrying most of the performance of a SATA SSD in your pocket isn't a bad place to be.
Crystal Disk Mark continues to drive home that the manufactures specs may be a bit overestimated. Peaking at 443.3MB/s read Crystal Disk Mark is putting the SE730H in exactly the same performance band that ATTO showed. Lets see how a multi drive comparison paints it.
Crystal Disk Mark shows something that ATTO didn't and something frankly astounding at that. The write speeds although still behind the reactor are well ahead of what the Accelsior e2 was capable of. This is thanks to the lack of dependence on write compression(and Crystal Disk Mark using uncompressible data). Random writes are still behind the dual drive assembly although reads there favor the USB device instead.
Anvil is as always our best look at response times for the drive. Overall the times we're seeing ton't look too bad with the exception of the random write times crossing into a full 1ms at QD16 the highest we've seen on the new test platform.
Stacked up the response times show the downfall of external drives across the board. With the exception of the dual drive assembly in the e2 everything is higher than other drives we've tested previously. These times aren't bad considering the portable nature(outside the
AS SSD usually comes in lower than our other tests but serves as a good sanity check. As expected we're seeing slightly lower but similar performance across the board. The simulated tests seem to take quite a hit with the added latency from the usb controller.
Bringing in the rest of our drives for comparision paint's the same picture we've been seeing. Although it can't quite provide native performance the SE730H keeps very close to the Sata drives and due to it's single drive nature can outperform the Accelsior e2, which is also held back by it's now ancient sandforce controllers.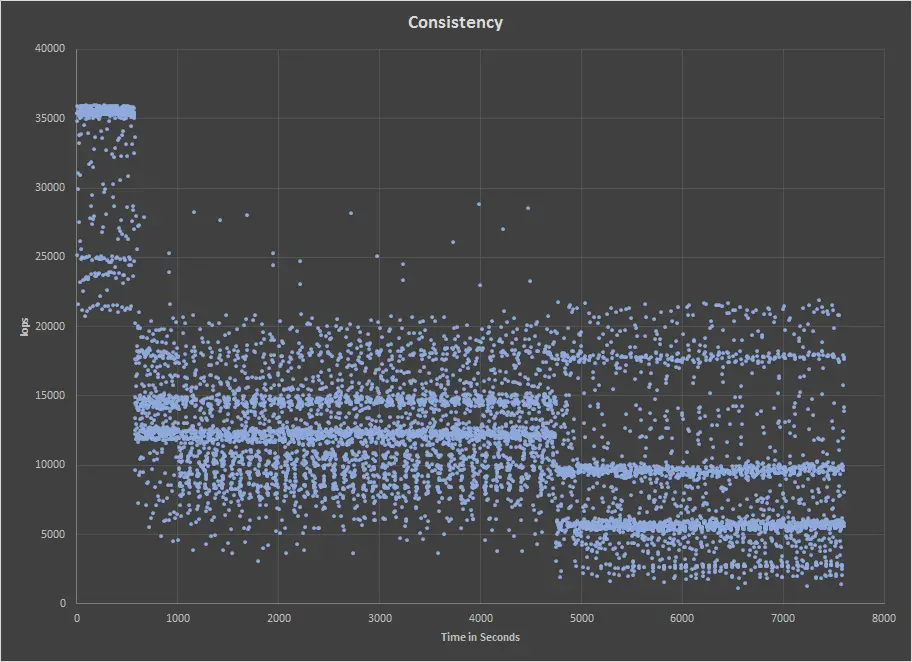 The SE730H exhibits a similar pattern to other TLC drives we've looked at with the same controller. The length of the peak appears to be stretched a bit likely thanks to the limitations imposed by the SATA to USB bridge that's in place. Towards the end of the run we see a bistable result between six and ten thousand iops.
It seems that the bistable operation didn't hurt the drive too much in it's consistency rating. Sitting just behind the venerable mushkin reactor is a very comfortable position for a usb device.
Pricing
Per gigabyte the SE730H looks relativly high compared to other drives. What this metric leaves out is the portability afforded by it's small size and bus powered nature. It's closest compettion for portability the ventura ultra comes in at higher prices, smaller capacities and a decreased availability as mushkin is phasing it out in favor of new upcoming products. This leaves the SE730H in a good position overall.
Closing Thoughts
The SE730H represents a current state of the art external SSD. Although there are a few floating around with more exotic configurations such as multi drive arrays it's combination of a modern controller and nand allows it to offer near sata performance in an external ssd. Available as both the tested 256Gb size for 139.99 and a larger 512Gb model for 279.99 in both red and gold this drive puts a lot of fast storage in your pocket at an attractive price point. The addition of IP68 capabilities should ensure the longevity of this drive even in the toughest of environments.