Nova Mesh WiFi Review – It Just Works and Then Some
I've been looking for a mesh WiFi solution for quite a while. My house isn't that big at about 2,000 square feet but the walls are full of metal and there are a few WiFi dead zones. The Nova MW6 from Tenda isn't the first solution I've tried (more on that in a future review) but it is the one I've settled on. It's easy to setup, works great, and has some more advanced options for customization. It's an excellent solution at an excellent price for anybody looking to improve the WiFi coverage at their home or business.
DESIGN
I think the Nova MW6 looks great. Each unit is a 4x4x4 inch white cube with no external antennas. In my opinion they hit the sweet spot of looking good but not standing out too much and therefore they fit in with almost any decor and unobtrusively blend into the background. On top of the unit is a small, but bright, LED that indicates the connection status. Blue for good, yellow for weaker, magenta for poor, etc. The LED can be disabled which helps the unit blend in even more.
SETUP
Setup is a breeze. Unlike some other systems I've tried, any of the three included MW6 cubes can be used as the base station, or the unit that gets plugged into your modem or router. Simply connect the Nova MW6 via the included ethernet cable, launch the Tenda WiFi app on your Android or iOS device, and follow the simple steps for setup. You'll get the chance to name your network and give a password. The Nova MW6 uses WPA2 security.
Once the base station cube is up and running, adding additional cubes is a breeze. Just place them where you want them, power them up, and wait for them to connect. If you look in the Tenda app and see the secondary cubes listed but not online, simply delete them from the app and they will reconnect to the mesh. Initial setup took fewer than five minutes.
After you have your primary network setup, you can head back to the Tenda app and do some more granular configuration or you can just leave things as they are. I added a guest network (which can be temporary or permanent), turned off the LEDs, and enabled fast roaming. You can also configure parental controls, change the connection type, setup port forwarding, and more.
PERFORMANCE
I was a little worried that network speeds would suffer and I would have been OK with that for the improved coverage. Happily, however, that isn't the case. I'm getting full speed (100 Mbps, in my case) throughout the house. And those dead zones I mentioned earlier? Brought back to life. I get strong signal in the front yard, in the garage, on the back porch – all places without coverage previously. The less than full speeds captured below are in my metal-box of a garage and across the yard on the sidewalk – both places I wouldn't dream of having WiFi access before.
One thing I like about the Nova MW6 system is that each cube broadcasts in 2.4 Ghz (802.11 b/g/n) and 5 Ghz (802.11 a/n/ac) providing optimal accessibility for devices new and old. I've used other mesh systems where this isn't the case and different stations intentionally broadcast at different frequencies.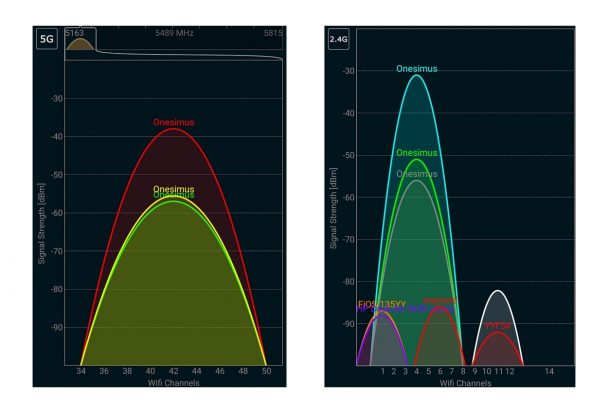 CONCLUSION
The Tenda Nova MW6 mesh WiFi system has been excellent in my home. It's solved every connection problem I've had. It's a great bargain at $200 from Amazon. If you are looking for a mesh setup, you can't go wrong with the Nova MW6.