Badly needed: turn off hotword detection in smart assistants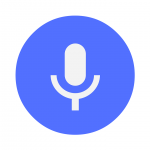 If you've got kids and a voice assistant, you've probably got various attempts at them activating things like Google Home, music, turning on a light or some such with "OK Google." If you don't have kids chances are you've got a place where you simply don't want the hotword to work, such as in a meeting room, or at a movie theater, or anywhere that's out of the house.
What most of these smart assistants seem to lack is a simple way to turn off hotword detection automatically. I'm not going to ever use OK Google at home to wake my phone up, but I might in the car or elsewhere.
What started as playing around with smart assistants has become comical as a child starts getting frustrated that the Google Home can't quite recognize "hokay oogle" and gets louder, every other smart device in the place picks up an OK Google, and you've got a chorus of beeps from smartphones and tablets in earshot indicating they're ready to handle this request.
If they're connected to the network, only one will take the request. If they're connected.
Similarly with the Alexa assistant, maybe you want it so that when your human friend named Alexa comes over and her phone joins the network the keyword auto switches to "Computer" or simply disables itself when anyone named Alexa is in the room.
As it stands right now, this is not something I can IFTTT or Tasker without root as far as I can tell, but it's a needed feature if you're going to have people walking around with a hair triggered assistant.
Additionally maybe YouTube should put out a notification of videos containing wakeup words. Would be nice to not cede any control of my devices even for a second to whatever YouTuber is on talking about the best cheese fries one can get in Canada.
But I really want my phone to not listen to OK Google at home, and do listen to it everywhere else except perhaps a movie theater. Nope, don't need this functionality at home. At home I can set it to unlock via network, geolocation, etc. I can access assistant just by pressing home for a second longer.
I'm once again considering rooting my phone just so I can force that off.
That's my lawn, get off it.