EMIGVELA 20,000mAh power bank overview
The EMIGVELA 20,000mAh power bank is a type-C PD in and out 20 Amp 45 Watt beast that can charge your phone, and any current laptops that have a USB C charger.
Specs
Type-c inputs: (5/9/12/15V 3A,) (20V/2.25A)*
Outputs: USB A: 5V/2.4A. USB C: 5/9/12/15v 3A, 20V 2.24A
410 grams / 0.00041 metric tons
20000mAh Lithium Polymer batteries
LED battery percentage display
*listed on Amazon as 14.5V 3A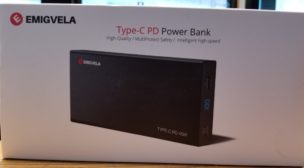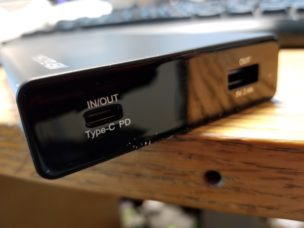 Issues encountered
I'll preface that the only issues thus far encountered are unrelated to the hardware of this thing however I'm still testing it.
As I was not fond of taking a hammer to the unit I decided to contact their support at the listing in the manual: [email protected] – this bounced with a 550 mailbox not found.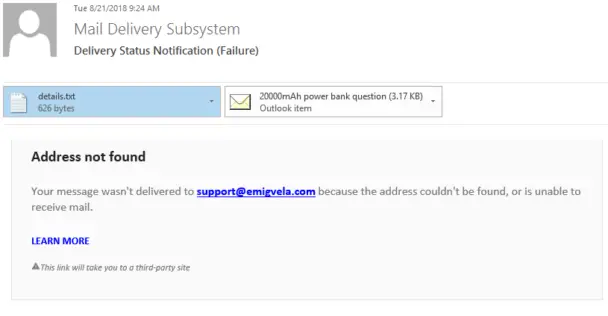 So I went to their website and got a website not found. Scratch that, it works with www.emigvela.com and it's a WordPress blog with Hello World! as the only entry.
I've got an email into our PR person asking the questions and about the website (they do seem to be offering support on Amazon however.)
Something off in their math? Probably not.
Here's the quote from their Amazon page:
Our Portable Charger has a large capacity.allow you to charge a Samsung Galaxy S9 up to 4 Times.A Iphone 5 up to 8 Times,a Iphone 6 up to 7 Times,a Iphone 7 up to 6 Times,a Iphone 8 up to 7 times,a Iphone X up to 5 Times.

I'll skip the grammatical critiques.
Samsung Galaxy S9, 3000mAh battery, claimed up to 4 times = 12,000mAh
iPhone 5, 1440mAh battery, claimed up to 8 times = 11,520mAh
iPhone 5, 1810mAh battery, claimed up to 7 times = 12,670mAh
iPhone 7, 1960mAh battery, claimed up to 6 times = 11,760mAh
iPhone 8, 1821mAh battery, claimed up to 7 times = 12,747mAh
iPhone X, 2716mAh battery, claimed up to 5 times = 13,580mAh
Nintendo Switch, 4310mAh Battery, claimed 4 times = 17,240mAh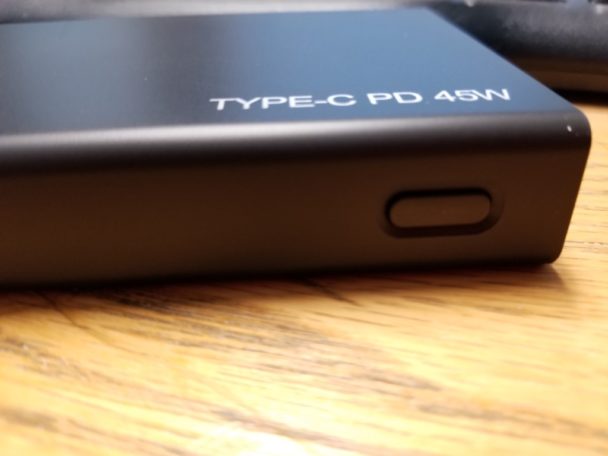 Now, we always make the assumption that there's conversion loss on each side. Battery efficiency is generally high, but the components to feed the correct voltage and amperage out lose juice in the form of heat. Back at CES I was told the average battery to device efficiency was about 80%. This article claims 70-75%.
70% comes in at 14,000mAh effective and, yup, that's the effective charge rate they're advertising. At the 4X for the Switch (from the picture) that's 86% efficiency, which is good.
Testing
It charges, recharges, appears to deliver at least 12,000mAh, charges on a Qualcomm Quick Charge 3 box I have at somewhere in the +20% an hour range.
It does not appear to support pass through charging which is a big no-no for me. I tried with a USB A to C cable to my phone and also a wireless charger I had laying around and there's just no power coming out of the EMIGVELA 20,000mAh power bank when it's charging.
EMIGVELA 20,000mAh power bank wrapup
Coming in at $49 on Amazon it's actually a pretty good deal, and we've got a promo code for 30% off at checkout: 79PYDOPV
You can get an EMIGVELA 20,000mAh power bank at Amazon for about $34.30 with our coupon (assuming it works)